Easter Camp Spider Bite!

Australia
April 9, 2007 8:31pm CST
As many of you know, we were away for all of Easter Camping. We left Thursday pm. The traffic was very heavy. It was still daylight when we arrived, but it took a long time to put up the tents, partly because the park required us to use the dolomite as a base, not the grass, & it was very hard to get the pegs in. It was dark & quite late by the time we got the tents up, the air beds blown up, & the tea cooked. Never mind, we all crashed that night. At 5.30 am we were woken by people banging pots & pans. Apparently they were getting ready to go fishing. Around breakfast time, my 13 year old step son was wandering around with no shoes on, despite repeated warnings about this (he cut his foot badly one christmas requiring 7 stitches). Somewhat later, he complained to me that his toe hurt. After taking his shoes off we saw this nasty black spot, about the size of a one cent, & it was surrounded by red under the skin. It had spread to the next toe. I recognised it as a spider bite, & so did my husband, who was pretty mad. Knowing these spider bites can get nasty, he rushed him off to the local hospital. They couldn't identify it, so they took a photo & sent it to the poisons hotline. Eventually he was allowed back to the camp site. The spider was never identified. The rest of our camp went more smoothly than this. The beach is magnicent. All white, snowy sand & clear water. There are sandhills at the back of the beach which the kids loved sliding down. Our fishing expeditions were not so successful. Everyone fishes from the jetty, & it was pleasant sitting up there trying to catch fish & crabs. Oh, there was one more incident. My 8 year old step daughter, who also ignores intrictions, had a very close near fall off the jetty. Her Father only just grabbed her in time from falling 4 metres into deep water. Although I took my digital camera, my daughter was so excited by her new mobile phone with a camera, that she insisted on taking all the photos. So I have to wait for her to load them on the computer before I can show you any here. I will most likely have to respond to discussions started from the tenth. I have saved some from the last four days, but it is most unlikely that I can back track that far. Can't wait to be in contact with you all.
9 responses

• United States
10 Apr 07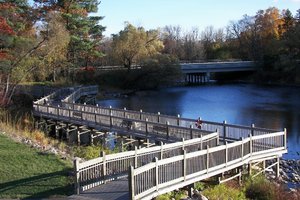 wow sounds like you had a good time despite the fact that your son got bite by a spider, I hope that that is healing alright and it doesn't cause major problem..Not sure where you went but it sure sounds like more fun than this cold weather we getting still in minnesota. they actually calling for another 6 inches of snow within the next two days. yuk, I am so ready for warm weather..welcome back and glad you had some down time we all need that once in awhile.

• Australia
11 Apr 07
I loved your pic of the lake. Wouldn't mind fishing there, & swimming.


• Canada
10 Apr 07
Wow, sounds like you guys had your hands full lol. A spider bite and a near fall into deep water. That would have freaked me out big time. As it was, I went climbing waterfalls over the Easter Holidays and that wasn't exactly safe. Hows the toe looking now? I hope it's healing nicely? I think if I were in your shoes, I would have been very glad to get home lol. I've never actually been camping before but I've heard it's a lot of fun. I should get the kids and my partner together and try it sometime.

• United States
10 Apr 07
We basically have only two poisonous spiders in the US that we have to worry about. Are there quite a few varieties in Australia? I guess all the excitement and near misses should raise your heart rate rather nicely. Your post makes me anxious for really warm weather here. We had SNOW this week, lots of it, very wet and packable. We know you will catch those of us you can. Welcome back.

• Philippines
10 Apr 07
Hi jenny, glad to hear of your camping experience. I hope your step son is recovering well from the spider bite. Spider can be real nasty. I didn't go out the whole 4 days holiday. Most of the establishments here were closed. I brought my girl to a water spa center and enjoying all the amenities there. I hope to see more of you in the coming days. A lot of my friends seem to disappear one by one. :)

• United States
10 Apr 07
I am glad you enjoyed your vacation land that your kids were okay. It sounds like a real nice place to visit! also glad to have you back and will look forward to getting your discussions again.

• United States
10 Apr 07
Its good to see you back. I hope you had a good time despite the little mishaps. I can't wait to see pictures as it sounds like a very nice place. Now you will need a vacation to recover from your vacation.lol.


• United States
12 Apr 07
Quick thinking on your part to ID the spider bite. I would love to visit Australia one day, but it seems like there are so many poisonous spiders and snakes there! Here in texas we have a few poisonous spiders and only three different kinds of poisonous snakes. I've never ran into any while camping or hiking. I usually just have very unexciting run-ins with racoons and bees. Oh yes, and poison ivy. Your trip sounds lovely and, despite those two incidents, very relaxing. Although going fishing and catching no fish is a bit disappointing :(. Sounds like those kids keep you and your hubby on your toes.