Little Brown Lizards in cocoa beach fl

United States
April 10, 2007 1:44am CST
I cant for the life of me figure out what they are called... They are dull brown, sometime dark deep brown, they come with speckles on their backs or just a pale white line down their spine. They have a read beard that they puff out, and will try to bite you, although they dont hurt. I use to buy green anoles in kentucky for pets, but i dont know if these guys are anoles, just brown anoles, or what? They dont get any bigger then the green anole. I know they eat ants, beetles, crickets, basicly anything that they can fit in their mouth that moves, and they wait for their prey to come close. They are fast little guys, and i just enjoy catching them. I love lizards. After i reach 500+ posts, i will upload a pic of this. I was just wondering if anyone knew exackly what they are called? Also i caught a gecko, at least i think its a gecko...When i first caught it, it was like a transparent little guy, but he turns dark brown real quick. He has no eye lids, and climbs on just about anything, plastic, glass, walls, ect. Hes just a little guy right now, about the size of my pinky finger. Do they get big? i can only assume so. Anyone has any clue please respond. All I know is this little guy loves crickets!
5 responses

• Philippines
12 Apr 07
For the one that you saw in cocoa beach is probably one of the species of the Bearded Dragons, and for the gecko probably it will not getting bigger than 12 inches, one gecko I know that will reach 12 inches is the Tokay Gecko which is an aggressive big gecko. most gecko are small.

• United States
10 Apr 07
Oh wow!! I can't wait till you get 500 posts so I can see it! Do you have any pictures of it on your myspace page? I don't really know the first thing about lizards so I can't help you there. :(

• United States
10 Apr 07
No i dont even have it up on myspace yet. But i think they are a type of anole, of somesort. I love lizards, and know how to take care of them, i just wanted to know what type they were... But will let you know when i get a pic and upload it :)

• United States
10 Apr 07
Kiwi I don't know what they are called so you can just call him a lizard or make your own species name for him. And why would you want him to bite you? Woman you are crazy he could be infecting you with some kind of secret poisening from an arch nemisis. Kiwi Darling do I have to go and teach you everything? Well I guess I do.....

• United States
18 Apr 07
Wow Kiwi, You've gotten lots of help with your lizards. I can't wait to see them maybe one day soon I'll come down there and watch your lizards eat crickets. You let one die though and that makes strawberry sad. You let it die because it wasn't smart! :(

• Philippines
13 Apr 07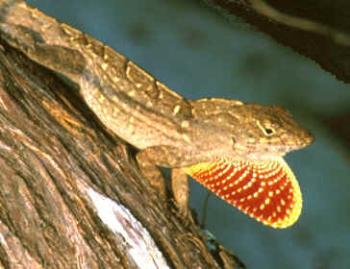 The brown anole is a small Caribbean lizard that colonized south Florida and Mexico about 50-60 years ago, and more recently, Hawaii. At least eight other Caribbean lizards have become established in south Florida, but only the brown anole is expanding its range into other southeastern states. This species is arguably the most abundant terrestrial vertebrate in peninsular Florida, and often reaches densities of more than one individual per square meter in disturbed habitats!The brown anole is thought to be responsible for a dramatic decline of previously stable urban and rural populations of the green anole, the only anole native to the United States. Green anoles often undergo a habitat shift and disappear within a few years after brown anole arrival. The two species are similar in size and overlap considerably in their diets, suggesting dietary resource competition. Predation on green anole hatchlings has also been demonstrated, suggesting that an ecological double-whammy termed "intra-guild predation" (competitors that also eat each other) might better describe the interaction.