What bedtime routine do you have for your children?

United States
April 10, 2007 9:58am CST
I was wondering what other parents do at bedtime for their children? Do you read a story (or two or three :)) ? Do you give them a bath every night? Is there a movie? Do you sing? What song? My children are 3 and 5. I sing to them every night. What is funny is that the song is Away in a Manger. When my son was born I didn't know any nursery songs and of course being born later in the year (October) the Christmas season was upon us. I started singing Away in a Manger to soothe him. It has stuck ever since. He still wants me to sing it to him when he goes to bed every night.
7 responses

• United States
11 Apr 07
When my daughter, who is now 8 years old was a baby, I used to sit in her room in a rocking chair and play James Taylors "Sweet Baby James". It worked almost every single time to put her out, even if she was a little fussy. As she got old enough to get into books which was pretty young I read at least 2 stories to her each night before bed. She had to have that everynight before bed. Even though she can read on her own now, every once in a while she still asks me to read something to her. Even if it's a longer book that she's working on she likes me to read to her for a while sometimes.

• United States
11 Apr 07
I think it is perhaps just the voice of mom is soothing to a child. Whether it is reading a story, telling a story, or singing a song. Thank you for sharing your routine with everyone. What is your daughters bedtime?

• United States
10 Apr 07
My children are also 5 & 3. They take their bath. They get their room all cleaned up. I read them a story and then tuck them in. Lights out. Pretty simple. Though it took some time to get it down to an easy thing. It used to be crys all night for the light on, drinks, bathroom, boogey man, etc.

• United States
11 Apr 07
Wow! How do you get them to clean up their room before bed? I can picture it now...my kids would be up all night because they would REFUSE to pick up! Don't get me wrong...they pick up during the day, but I just don't see how to get them to do it before bed. I would LOVE to hear your advice on this one. It is a great routine. I really need to get things in order because of kindergarten starting in the fall. Thanks!

• United States
10 Apr 07
when my kids were to small to hold a book i read to them sang to them and rocked them. it all went off how they were acting. once they got old enough to hold a book they held it and we made up stories to go with the pics in it. then when they could read they would read to me. then when tehy got older like they are now this is what we do. 730 is bath times then it is whatever time till 830 then it is go to your room and read and relax till 9 or 930 then it is lights out. my kids are 9 and 12 now and they like the habbit and never complain. my kids love to read.

• United States
11 Apr 07
Your kids are older, but as I read your post I thought..."This is a great bedtime routine for kids". That is how I go to bed myself. Reading before bed helps me to relax and get my mind off of the day. Both of my kids love to read. Thanks for sharing your routine!

• United States
10 Apr 07
My daughter is 6 and is becoming very independent. We have a bedtime routine, but there are some nights that I am looking for her and she has already tucked herself in bed:( This is very sad to me! I am not ready to have her grow up yet. Our routine is shower~now that she is 6 she would rather shower than bath., snack, brush teeth, read 1 book, lay in bed and get tucked in, watch one tv show (yes, i am a bad mom, i let her have a tv in her room), then i come in, make sure she has a cup of water, tuck her in again and sing I See The Moon.

• United States
10 Apr 07
I like your routine. Is there a certain time she goes to bed at night? I imagine she is in school now. My son starts kindergarten this year and I am trying to decide just what time to make the official bed time. Up until now things have been somewhat flexible. My son has gone to bed a couple of times on his own when I thought he had just gone to his room to play for a bit. This breaks my heart too. I just love the tucking in time it is very special.

• Australia
11 Apr 07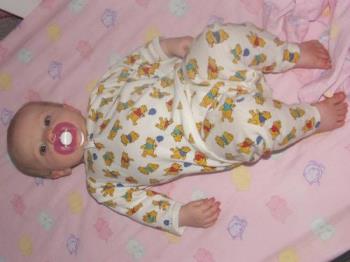 My daughter has a bit of a a routine but it's pretty basic. She has her bottle on her sofa bed & watches what's on TV & then she goes in her cot & is asleep instantly! When she's a little older i'll get her in to something different like stories & such. I have tried reading to her but she either falls asleep or wanders off coz she's not really interested unless she can pull the book apart! Things will change when she's a bit older & can understand a little better but maybe i'll try the singing to her one of these days, we'll see how that goes!

• Canada
10 Apr 07
We have a snack about 7:30pm. After our snack we get pj's on and I put my 17month old son into his bed (after a quick tooth brushing) and he goes to sleep (about 8:00). Then each one of the older ones (5 4 & 3) get to pick a story each. After stories are read we brush our teeth, use the washroom, get tucked in and since they share a bedroom they talk for about 10 mintues before drifting off to slepp on their own. They are usually asleep between 8:30 - 8:45 depending on the length of the stories they pick. For the baby (3 months) he lays onthe floor on a blanket while I am reading the stories and brushing the girls teeth. After which I give him a bottle, chnage him and he goes to sleep about 9:30. Everyone wakes up between 6:30 - 7:00am

• United States
10 Apr 07
At 9 p.m., my 1 1/2 year old gets a bath. By 10 pm he's in his bed. I sit there with the lights off and he drifts off to sleep, he talks up to the moment he conks out, it's so funny. I can't sing or anything like that or he'd get hyped up and dance on his bed.