do you believe in fortune teller...palm readings..ets and visit them???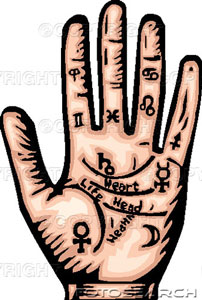 April 10, 2007 1:08pm CST
Do you believe in palm reader..fortune teller and have you visited themm..for me sometimes its like i believe them and sometimes i don't coz..i have noticced that those fortune teller tell many things and we tend to belive coz out of many things somethings tends to be write..doesn't it..???
2 responses

• Pakistan
10 Apr 07
well i m a palm reader myself and i have done the studies of palm reading when i didnt knew about it i thought it wouldnt be true but when i read any one past and the person tells me that im true i feel that its true that there are some true things in our palms not all but some and our palm rays changes every six months i think the palm and fortune telling could be true if the person has a good knowledge about it and has studied well

• United States
10 Apr 07
I believe in the science of palm reading and fortune telling, but I believe that there are alot of people out there posing as experts of these sciences, and they're not at all. You have to be careful who you go to, and to always take it with a grain of salt, not believe everything they say. Many of these readers are very good at convincing you they know your future, but they don't really at all.