Women Drivers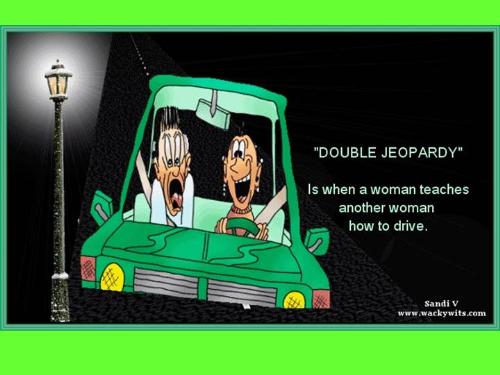 United States
April 10, 2007 9:27pm CST
This is a funny joke that I received on my e-mail earlier this evening. It is about women drivers. I thought it to be very humorous. Please, it is not dirty, and does not contain swear words, however, if you feel you might be offended, do not click on the cartoon!
4 responses


• United States
19 Apr 07
It made me laugh. I need to laugh more, so if you find anything cute, be sure and post it so I'll see it!

• United States
22 May 07
thanks hon...Hope you're having a great day today. It's supposed to rain again here...YUCK


• United States
20 Apr 07
Ok I love this joke.Thanks for sharing.I am female which I guess you know that by looking at my username but anyway everytime I see another driver make a mistake while driving I will say "that must be a woman driver".lol

• United States
25 Apr 07
You know I thought this was a funny joke, but I know men who are just as bad. This morning, I saw a man driving while I was on the way to work. He had a newspaper propped up on the steering wheel, a cup of coffee in one hand and a cell phone propped up with the other shoulder! I was afraid of him!

• Philippines
11 Apr 07
I love that! did you observe too that a car owned by a woman has the following: Stuff toys that almost cover the windshield, colorful throw pillows, decorated tissue holder, cartoon character painted on the sunshield and many other stuff that can be found in her bedroom.

• United States
11 Apr 07
yes! that is so true! You forgot the teenagers, all with headphones and trying to talk over their music, the dog who thinks she needs to ride everywhere you go, and the hands-free cell phone cord stuck in her ear.

• United States
11 Apr 07
I love a good joke. I know this has been said before, but here goes: Two peanuts were walking down the street. One was a salted.

• United States
11 Apr 07
lol :) I have not seen this one before, But I like it!