It took 5 months, before my dog was trained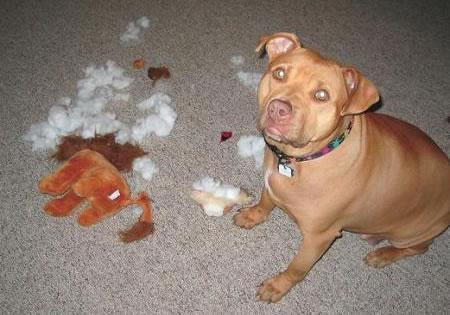 United States
April 10, 2007 11:33pm CST
It's been a long hard road to endure with my pet dog relieving himself in the house and not wanting to listen. and after 5 months I'm finally starting to see some progress. He's starting to obey, he even has his own little way of letting us know when he needs to "go" without actually going, and he knows not to touch his food unless I say so. Any other tips anyone can give on training a 5-month old pup?
3 responses

• Canada
11 Apr 07
I think you are doing amazingly well if he is trained in 5 months and he won't touch his food until you tell him too because that is very hard to do.

• United States
11 Apr 07
Thanks! My father tried scaring me into saying 5 months is a bit too old for a dog not to be trained. i still think he's a young pup and (before he got his haircut) is adorable. and though i have him trained not to touch his food, he always complains through barking until i say he can eat. otherwise, he knows better than to not touch it. the only problem i'm having (even though its getting better) is potty training. i take him out as often as i can and lately i'm seeing better results, but im wondering if there's something that i'm missing that i should be doing.

• United States
12 Apr 07
Wow congrats to you on training your dog! You must feel pleased!!!! What kind of dog do you have? My kids have a dog and he's the sweetest things EVER!

• United States
11 Apr 07
Be consistent. When you can't watch him, he should go in a crate. Come up with times each day to take him out and give him a command like "potty" and praise when he goes. As long as they are never permitted to eliminate in the house, they will learn the drill rather quickly. One accident inside is like taking 10 steps back for every step forward. So you should prevent accidents from happening before they happen. Like I said, get a crate, that helps immensely.