Agent Smith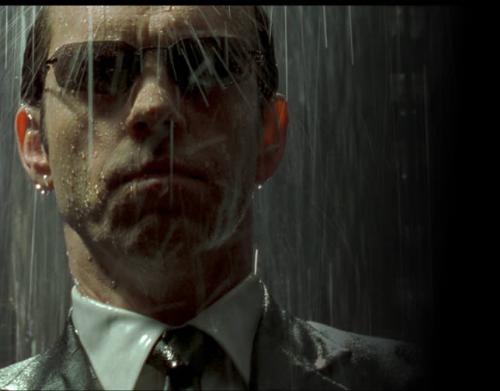 United States
April 11, 2007 3:34am CST
Agent Smith said something incredibly profound in The Matrix. Filled with contempt for all human beings, Agent Smith shares a revelation with Morpheus. He says, "I'd like to share a revelation that I've had during my time here. It came to me when I tried to classify your species. I've realized that you are not actually mammals. Every mammal on this planet instinctively develops a natural equilibrium with the surrounding environment. But you humans do not. You move to an area and you multiply and you multiply until every natural resource is consumed and the only way you can survive is to spread to another area. There is another organism on this planet that follows the same pattern. Do you know what it is? A virus. Human beings are a disease, a cancer of this planet. You are a plague. And we... are the cure." Isn't that just profound? What do you think of Smith's statement? Do you think he's right? Do you think he's overestimating the human race? What do you think?
2 responses

• Australia
11 Apr 07
Everything that Agent Smith says like that is always very philosophical and everything he says makes you wonder if he has hit onto something. He is right in some respects, we do tend to consume all the natural resources, and when we do we simply move away. We have surely made a dump of our planet, to that i think everyone can agree, we do not live with nature, we live off it. The only really profound part to the statement is Agent Smith saying that he is the cure. Thats just my opinion anyways.

• United States
11 Apr 07
I disagree with the "we've made a dump of our planet" thing, but other than that, Agent Smith is being very philosophical. What he doesn't realize, is that it's impossible for humans to technically be a virus, because viruses have no brains, and are physically different.

• Australia
14 Apr 07
What he is doing though, is not calling us a virus, he is simply comparing our traits to that of a virus. He is technically correct in that sense, what you have to also remember is just that its whoever wrote the scripts opinion on the planet as well.

• United States
16 Apr 07
Well, you have to remember, he says that his problem came to him when he tried to classify humans, and he even says that we're not really mammals. So, I don't think that Smith is just remarking the similarities, I think he's saying that humans really are viruses.

•
16 Apr 07
I agree with agent smith totally. I think this current humanity should be wiped out off the face of this earth and allow new, better generations with new morals and ideas to rule the planet and give it what it deserves. RESPECT. human beings are selfish, greedy and always hungry for more. we tend to destroy our environments and kill off our brothers for what? domination, religious beliefs, oil, money, power... and for what?? a few moments worth of "hey, i am the king of the world"? we need to get a life, or stop having one at all.