have you been to MACAU?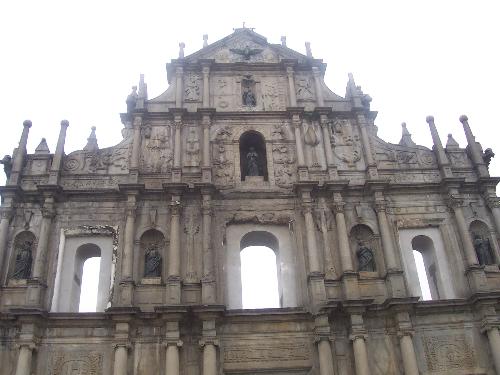 Philippines
7 responses

• United States
12 Apr 07
Macau is beautiful. There are a lot of nice colonial homes around. I don't care much for gambling, so just walking through the city to see some history is fine for me. The AoMa temple is a cool place to stop in. The food is terrific--Portugese and Chinese mix is a good one. It can get expensive to visit if you're living and working in China on an EFL salary, but it's still cheaper than Hong Kong. Only thing that gets confusing is that the official currency is the Macau Pataca, but ATMs will usually give Hong Kong dollars, which is the only currency accepted in the casinos. You can also use RMB in most stores. But don't try to use the Patacas outside Macau.

• Singapore
1 May 07
Yes, I have. It's a beautiful place. Lots of remarkable Portuguese style buildings and fantastic Portuguese Chinese cuisine. I also enjoyed exploring the ruins of the old church that was burned down in a fire centuries before. One must try the Portuguese egg tarts and the milk custard. These are superb food items.

• Malaysia
1 May 07
nope but i would love to go there one day!


• United States
11 Apr 07
What happens in Macau stays in Macau, okay? LoL! Seriously, though, I had never heard that before. Now I have another place to add to the already overwhelming list of places that I want to visit, thank you very much. :P

• India
11 Apr 07
i like to travel and explore the world. i have heard a lot about china. i would love to visit that place.

• Hong Kong
25 Nov 07
No, I live in Hong Kong but I've never traveled to Macau. My boyfriend promises to take me there this December =) It's indeed the Las Vegas of Asia. Many people lost all their properties there too (by gambling). And there's international sport car racing activity every year. The hotels are always full during the period. The restaurant foods are nice and economical. Great place to travel and have vacation =)