Deodorant....What kind.....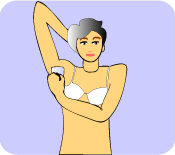 United States
7 responses

• United States
13 Apr 07
I am about to make you giggle. I use my husband's Gillette Cool Wave gel. I know it's for men and it smells like a man, but I love it. I have bad reactions as I have sensitive skin, and this just does not do that to me. I tried Avon, natural types, everything. This works all day and doesn't leave marks as long as you don't glob it on..lol. So I walk around smelling like a man under my arms..lol.

• United States
14 Apr 07
That's what my son wears. It smells really good. I don't really like gels myself, they make me feel wet.

• United States
12 Apr 07
I always go for solid deodorant, usually the ones that dry clear. I like Lady Speed Stick's Orchird Blossom scent, it keeps me smelling fresh and clean all day long. I have tried Degree, but it made my underarms hurt! I have never experienced anything like that before, I think I might have had an allergic reaction to one of the ingredients. Other than that I have tried other's like Dove's and Sure deodorant, but I always go back to the Lady Speed Stick in the same scent!LOL!

• United States
12 Apr 07
I'm using the Degree solid right now, I bought it for the first time, had a coupon and thought I'd give it a try. So far I don't like it cause it says....invisible....well it certainly is not. It goes on white and you get those yucky white marks on your shirt.

• United States
12 Apr 07
It actually depends on the situation. On a 'normal' day I will use a deodorant not an anti-persperant. If I know I am going somewhere where I absolutely cannot sweat or somewhere where I know I am going to be hot or in a stressful situation then I will switch. As for brands, they are all the same (active ingredient)and I go for whatever is the least expensive but usually like an Old Spice solid, no sprays.

• United States
12 Apr 07
I use Dry Idea unscented gel.I am very allergic to deodorants and this is the one i have found that i can use without breaking out in a rash.I still have to skip a day or so after shaving my underarms though.I have tried lots of hypo-allergenic brands but this is best for me so far.



•
11 Apr 07
it has to be spray, it contains the most and works the best, i have never heard of a gel type of deodorant.