The countdown timer is almost out of time.

Australia
April 11, 2007 3:53pm CST
My daughters wedding day is almost here. She gets married on Saturday. She is my eldest daughter and the first one in our family to get married. On the Saturday morning I am to go over to her house and get everybody ready. I have all my daughters hair to do. The brides hair took almost 2 hours to do on the practise run so I can tell you I am really gonna have sore fingers after doing hers and the 2 brides maids. I am going to have to take my own dress with me there and get ready myself also. Thank goodness I have just recently got a perm so all I have to do is wash it and throw some mouuse into it :). As you can probably tell I am really getting excited. I hope I don't cry. Somehow I really think I am going to as I always seem to cry when I'm happy. I am so proud. So after all that rabbling on can anybody give me some tips as to how to ensure the day goes smoothly?
7 responses

• United States
11 Apr 07
It is your daughters wedding you are entitled to cry if you want to! I have no kids but I recently got married. So my advice is get everything ready the night before so that you can just get up and go so you aren't running around looking for stuff and losing time. Make a check list if you have to. We forget so many things we had people running around constantly. That's why it will all be packed up or next to the door and ready to go the morning of the wedding. And all I can say is take time to step back and enjoy every moment of the day It goes by fast! Have people take pictures throughout the whole day so you can put a nice scrapbook together. One of my favorite pictures I have is when my mom is fixing my hair and putting my veil on!! It meant so much to me to have my mom do my hair. Remember the checklist! It saves a lot of time

• Australia
11 Apr 07
Thankyou for that wonderful advice. I never thought of the pictures of when she is getting ready. I am sure she will love that advice. I will also definately make the checklist. Thanks again.

• United States
11 Apr 07
It would have help me LOL! But just don't get too wrapped up in doing things where you can't enjoy the day and update us on how fun it was and how everything goes! I love weddings!


• United States
12 Apr 07
Well, I think that first of all, since it's your daughter getting married try to enjoy yourself. I mean the best that you can with all the nerves. LOL! But seriously, I don't think there's ever a wedding that goes completely smoothly so just roll with it and do the best that you can. Relax and enjoy and if you want to cry, cry all you want. It is your daughter's wedding and moms are entitled to that.

• Australia
12 Apr 07
Thanks dfinster. Your comment made me feel a bit less nervous.

• Australia
15 Apr 07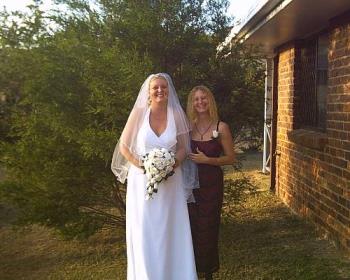 This is my daughter and I. We were laughing as the person who took the photo accidently took a picture of his foot just before this one.

• Brisbane, Australia
12 Apr 07
How exciting! The day's almost here.Mate just relax and enjoy a great day.The people above me have given you great advise,I really can't add to it.Just have fun,cry if you need too.I can feel your pride just leaping off the page here lol.Please add my best wishes and blessings to the above posters to give your daughter and soon to be son-in-law.

• Australia
12 Apr 07
You are right I am very proud Nikki. Thankyou for the well wishes and blessings. Hugs.

• United States
12 Apr 07
Congratulations to you and your daughter.What a great day you have before you.Just try to stay calm.Give your self lots of time incase little problems arise.I'd try to get a good nights sleep Friday night so your well rested for the big day.If you start to feel panicky just take a deep breath and say yes i can do this...Everything will be perfect and beautiful.

• Australia
12 Apr 07
Oh gee...this is so exciting. I'll bet everyone's getting nervous. It's Thursday night so you probably won't read this till it's all over. Anyway, just relax and delegate...lol I do so hope it goes well and you all have a lovely time. I hope that creepy m-i-l of yours is out of the way. Just have yourself a happy time if you can. It will be a day to carry happy memories away from. Hope you post lots of photos for us. Best wishes to you, your family and especially your daughter and her new husband. oxoxoxoxoxox

• Australia
12 Apr 07
Thankyou MsTickle. Your well wishes and advice is always welcome. Hugs.


• Australia
12 Apr 07
Thankyou Gabs for your great advice and your well wishes.

• Ireland
11 Apr 07
I am sure you must be very excited. I went through all this last year with my own daughter's wedding. Something always goes wrong and with her it was that the bridal car turned up an hour late to take her to the Church. Then when she got to the hotel, she found she had left her purse in the car and the driver had to drive all the way back with it. My advice to you is just to relax and let everyting fall into place. I hope you have a great day and please come back after it and let us know how it went. Wish your daughter and her husband to be, all the best of luck from me.

• Australia
11 Apr 07
Alexandria you always have great advice. Thankyou for the well wishes I will certainly pass them on. I may even put some pics up so you can all see.