Easter Lilies and Hyacinths.. anybody have some?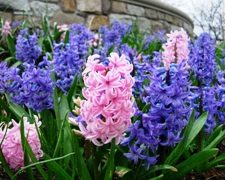 United States
2 responses

• United States
11 Apr 07
My husband bought me an Easter lily so I have been wondering about planting it as well! Thank you for starting this discussion! I did read that you should remove the yellow stamen (where the pollen is) from the flowers as it will make them last longer. Does anyone happen to know the latin name of the plant? All it says on the tag is Easter lily. Good luck with planting yours--I think I am going to plant mine tomorrow but not sure where yet. I know they do spread!

• United States
12 Apr 07
thank you for the latin name!!

• United States
12 Apr 07
While I can't give you tips on keeping ANYTHING "green" alive, lol, I can attest that the hyacinth is my ultimate favorite spring flower! This year I couldn't find them anywhere though! None of our WalMarts had them, none of the grocery stores, or any common place that normally sells them! I'm not sure why? I always buy a hyacinth for my parents each year and this year I couldn't! I love their scent and will buy a couple just to put across my entertainment center and smell up the house! Of course they die before I ever get to planting them and even if I do they die somehow before the next spring! lol I have a BLACK thumb indeed!