Which is the latest movie that you have seen?


India
April 12, 2007 2:24am CST
Movies are made for entertainment .People go to see movies for different reasons also,what are the other reasons you have gone for movie sometime other than just entertainment.One day I was feeling very low,i lost my grandmother in that month and I did not know what to do .If I would have been at home I would have wept the whole day for sure.Has this happened to you?
8 responses

• Philippines
12 Apr 07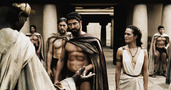 geeta I'm sorry for your loss. If that happened to me I wouldn't know what to do, I'll probably stay all day in the 'wake'. As per your question the latest movie I saw was '300' I watched it for the 2nd time last night. The movie never failed to amaze me, it is so full of strength, power, courage and love for country.

• China
12 Apr 07
The latest movie i have seen is the pirates of the caribbean.There are all together three movie about this film.And i have seen the first and the second,that is pirates of the caribbean1,2.They are wonderful.And i think the second is even better than the first.

• Hong Kong
12 Apr 07
I'm sorry for your lost, Geeta. Hope you've overcome the sorrow now. The last movie I watched was Night at The Museum by Ben Stiller. I would not choose to watch it myself, but my friend wanted to watch it very much so I went with him. After all, it's quite an interesting movie, and it's good for a laugh. I usually go to a movie for social purpose, cause I like spending an hour or two in the cinema, sitting comfortably, having popcorn while enjoying (well, sometime cursing the directors and the actors & actresses if the movie was too crappy) the movie with my friends. It's great when I think that it's like we've been experiencing something together, and we just can't help discussing the details of the movies afterwards.

• Indonesia
12 Apr 07
I am not sure i get the hint of what you are trying to say here, geeta151. But movies are made for entertainment, but also for giving you relax feeling and get away from certain problems a well. Maybe with your case, you are trying to get away from grieveness by watching movie. That's okay, I watched movie or listening to music everytime i was on down state.

• Philippines
12 Apr 07
yes, movies are made for entertainment and entertainment can also mean diverting your mind to somewhere else, It can also be a way of getting out of grieving but It can never comfort you in most ways..It might help you forget your grief for a period of time though. I watched movies in moviehouses for the reason that I want to be entertained.The last movie I saw is "300" which is very very good movie, untill now I can't get enough of reading artciles about the bravest man in Sparta. LAst night, I watched "All the King's men" in DVD..it's also good but you really have to listen closely coz it can be boring, it was akind of story telling movie.It features Sean Penn and Jude Law.

• Indonesia
12 Apr 07
the last movie that i saw is "Black Christmas", it's talk about assasination, i think it's not too bad, i give rating 6.5 to that movie, i watch it on chinese new year, i didnt have any plant to go to anywhere so i watch the movie with my friends