Loud cat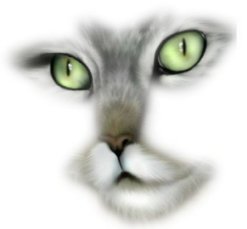 Canada
April 12, 2007 6:50am CST
I know all cats are different and some are more vocal than others, but Bailey has been way too much vocal lately. Fluffy rarely makes any noise and when she does, it is not loud at all, she could be meowing all night and wouldn't wake up anyone. I know she's older and maybe not as playful as Bailey. Bayley turned two years in December and is a very playful cat. He is very curious and funny. He is also the one that that created some problems in the house:) From the time that he decided to spray anything that was on top of our sofa or in the kids bed - thankfully he stopped that. His last one is meowing loud and clear each night. He usually starts at 3 or 4 am and we haven't been able to sleep much ever since. Hubby is getting really upset at this. He is the one more affected because he has to wake up earlier than any of us. And to wake hubby up it really has to be loud. I know that he isn't neutered yet, and this might have something with it. Things got a bit bad financially just after we got him and we didn't have a chance to vaccinate him or neuter him yet. We have been trying not to pay attention when he's that vocal, but it really is becoming more and more of a problem. There are some nights that he is quiet, but most nights he just is too loud. He starts, then stops for a bit, starts again, stops, starts, stops... LOL Does anyone know any solution for this problem? we would really appreciate a full night sleep.
8 responses

•
12 Apr 07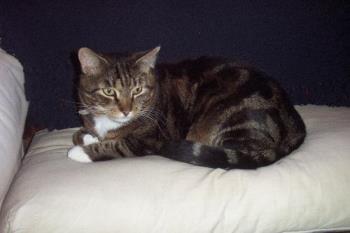 I guess the only way he will quiet down is when he is neutered hun. Can I suggest you contact your local animal charity practice as they can often help with vaccination and neutering of cats, so it won't cost you too much.

• United States
12 Apr 07
Good advice. We have an organization called Cat Welfare that charges only $10, less if you really can't pay it.

• Canada
13 Apr 07
I'm going to call the humane society and hope that they have something that won't cost much. I love him dearly but we all need to sleep here LOL Thank you for reminding me about the humane society, I had forgotten about that option. I don't know if it's affordable or not, but I"ll call then tomorrow and see, thanks:)

• United States
12 Apr 07
I would get him neutered, and I would use a spray bottle and spray him if he woke me up. It would only take a night or two for him to understand. Barring that I would put him out in the garage or something. Sorry to hear he is such a mess right now.

• United States
12 Apr 07
one of mine did this until he was neutered-he was crying because he wanted to go out,and chase the females in the neighborhood. once he was neutered,he stopped it though.

•
13 Apr 07
Thanks for the best response hun

• Canada
13 Apr 07
You're welcome :) I really had forgotten about the Humane SOciety. I hope they can help. I got all my pets when thing were good financially and I never thought they would get so bad that I couldn't afford something they need . But hey, everything will get better, and for starters Humane Society might help :)

• United Kingdom
12 Apr 07
You might find there is a Female Cat on heat somewhere and that is what is causing this he wants out This is what Tom cats do when they have not been done and there is a Female Cat on heat so you will not stop this in any way unless you let him out lol

• Canada
13 Apr 07
I feel for you .I am not sure I have solution that would fit your cat. I have a loud cat and he howls because he wants something . If he wants to come in or go out he howls until someone listens to him and responds to him. When he is hungry he simply will not go to his dish and look for food. He stands and howls and once I show him that he has food in his dish he will stop howling . He is neutered so don't think that has anything to do with it. Most times he is a sweet cat and he loves to climb on my bed and sleep . He sets up to purring so sweetly.

• United States
13 Apr 07
We have two cats, when either one of them are being bad either meowing or trying to kill the other, or trying to wake us up by poking their sharp little needle like claws into our faces or bodies, we pick them up and they go down the stairs into the basement. If you have a basement that you can lock him into i would try that, give him food and water and just leave him down there for the night. Our cats after spending a night down there usually behave for a couple days LOL. Maybe try taking him to the vet and see if anything is wrong, my one cat was meowing and acting strange for a long time and we then found out after a month or so, that she had kidney failure. Hope these work for you.

• Philippines
13 Apr 07
cats can be very noisy especially during their mating season. i have lots of cats and they're really noisy at those days. and i hate it. coz i can't sleep well.