How to look attractive to everybody??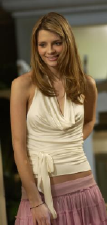 India
5 responses

• United States
12 Apr 07
I think that the most important thing is that you are comfordable in your own skin, You can be comfortable and attractive at rhe same time!

• India
20 Jul 07
Sorryyyyyyyyyyyyyyyyyyyyyyyy................dear.....

• Gibraltar
12 Apr 07
Everyone has his/her own look,style,figure,personality and so on. So it is very important to know and understand what type of outfits; hair styles are more appropriate and attractive for others so that he/she can look attractive to everybody. A haircut can make a person look totally different, so make up and dress up play an important role.

• United States
12 Apr 07
Putting forth a feeling of confidence is important. And being clean!! :-P But for real though, I don't think there is anyway to be attractive to everyone because everyone is so different and it is just something we have to accept.