Does anyone have a way to maximize my earnings?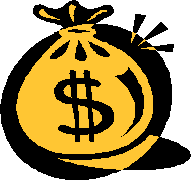 United States
April 12, 2007 9:17pm CST
Well, I've been doing this for three days now, and I've made $1.73. I really enjoy the fun of myLot, make no mistake. But I would just like to find some ways to maximize my money-making potential. Does anyone have some tips, or a website that I can visit? Any help at all would be appreciated.
1 response

• United States
13 Apr 07
First off, welcome to mylot. In order to maximize your earnings, you must be sure that you are posting quality posts. I try to be sure my responses are at least 4 or 5 lines long and that they pertain to the interest category. I also am sure to rate people and to resolve my best responses every couple of days or so. I think the important thing is to come here regularly and be active. Best wishes on mylot !

• United States
13 Apr 07
Yeah, I guessed that all responses should be about that long; I had heard that. Do you get extra money for choosing a best response? Do you get paid extra if yours is chosen as best response? Why is it that, even though I put good pictures on about eight or ten of my discussions yesterday, I only received two cents in payment? Are you paid more if more people respond to your discussions? Thanks in advance!