Friends!! Am I Not WORTHY Enough??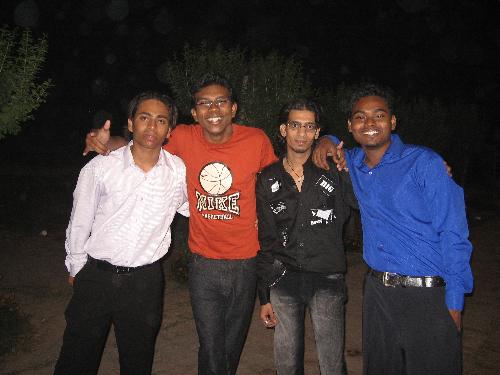 India
April 13, 2007 4:42am CST
I don't really know whats the meaning of friendship... But for me it has always been and will be sharing and caring for each other. Listening to each other and being together. Here at MyLot I made few many different kinds of friends with different tastes and likes and lifestyles. I don't know if my calling them friends is ok enough or not.... Its not that I am complaining or something but aren't friends supposed to tell you your mistakes when you are wrong or tell you what they don't like in you. I am saying all this rubbish just because I am kind of confused that whether or not my discussions are so boring or worthless that even my friends don't reply... Ya there are few who always help me out but it seems that the rest are too busy helping themselves or they don't consider me a friend at all. I don't know what to say to them or even why... but its really been bothering me since a little while so I just jotted it down to share with those who consider me friend. I Love You All If You consider Me A Friend Or Not.... No Hard Feelings Any ways Take Care Every Body May GOD Bless YOU ALL
5 responses

• India
13 Apr 07
Well its not that,that your discussions are worthless but every people have differnt tastes in every thing!! including discussions .So don't cry over people not responding .You just go ahead and keep starting new discussions. Well but your discussions are a bit complex one ..so its hard for people to understand!! You will become a top discusser soon!!

• India
13 Apr 07
I hope so but its too difficult to accept that whatever you post on they aren't bothered... still I won't loose my hopes... Take Care May GOD Bless YOU

• Philippines
13 Apr 07
Hello raphael!(",) Feeling bad when the people in your friend's list don't respond?(",) I think everybody does because they are supposed to help you out. I think you need to focus in answering discussions because in that way you'll be able to earn. At first, I felt bad when nobody seem to notice my discussion but now I'm glad that I don't have discussions with no response. Cheer up!(",) Your friends might have been too busy and soon they will reply/respond to your discussion. Have a great day!(",)

• India
13 Apr 07
I hope it goes like that... I am waiting for their responses eagerly and till then I will keep trying.... Thanks For Your Response May GOD Bless YOU

•
22 Apr 07
Don't worry lol, I too have over 450 friends on my list and they come to me every day, new friends requests, a fraction of them reply to my discussions but most don't. The ones that do make my day, I am happy here and I will try to be a better friend to you too. I haven't done enough mylotting for a few weeks because I was traveling and this week looking after my sister's kids and her home and doing all the cooking, cleaning and shopping and trying to set up my own business lol..But I am here now.. Chin up and don't get despondent, things will get better and better and than you for being one of my great friends here on Mylot..

• India
23 Apr 07
Thanks for your continuous support Yanji... You are a great Pal Thanks A Lot Take Care May GOD Bless YOU

• India
18 Apr 07
hi raphael, dont take things personally, its a common experience that each myloter undergoes, you will be surprised to know that most of my friends are inactive and some even dont to care to respond for a single discussion started by me, actually here friendships builds up easily if both the friends are responding to each other posts, so when ever i log into mylot i first choose to respond to friends discussions who reply to my discussions and are active. secondly i have seen some mylotians have more than 100 or 200 friends, do you think it will be possible for them to respond to each post started by their friends, so just cool down and choose to answer to the posts of those friends who are more close to you and respond regularly to your post, then you can choose to respond to any post of your interest, it may be of your friend or of any other mylotian member.

• India
19 Apr 07
Thanks for the support buddy..... I will try to be as patient as possible .... Take Care May GOD Bless YOU

•
13 Apr 07
Well, I can't speak for everybody else, but I try to support you as much as possible by responding to your discussions, as you do to mine, and for which I thank you. The only problem with this is that when one has a quite large number of friends on Mylot, and the active friends' discussions come to the top of the page all the time, sometimes yours get missed. I try to share out my responses as equally as possible but sometimes discussions get lost some six to ten pages from the beginning and it then becomes a matter of timing. I have some discussions which were missed by my friends, but I still support them. I agree, it's noticeable sometimes, and you wonder whether it's all worth your while, but take heart, my friend. You're doing ok, and I'm here! lol. Brightest Blessings.

• India
19 Apr 07
But still I don't understand as when I post my discussion its supposed to be on the top page till atleast somebody re[plys to a lot of other discussions on the top page or else somebody else posts too many new discussions... But still I might like to know that can't they even notice it on the top for even once..... Any ways No hard feelings Take Care May GOD Bless YOU