do u think video games are spoiling the children?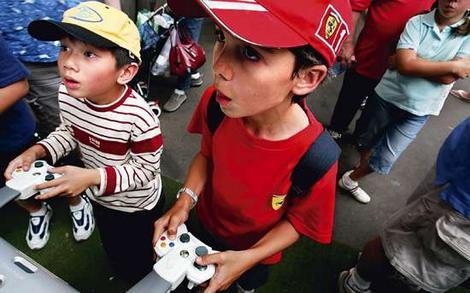 India
April 13, 2007 5:53am CST
do u think video games are spoiling the children? why do u think so? do u think parents should prevent their children from playing video games? why? do u get any benefit by playing it?how? according to me every thing has its advantages and disadvantages the strangest of the positives of video games can be seen in the health care sector.youngsters who are undergoing painful treatment for ailments like cancer can use video games to distract themselves from the pain for extended periods. (i have done this and it really works try it) peaple who live a sedentary lifestyle and do mostly sitting activities such as playing video games usually suffer from some sort of ailment later on in life,such as heart and muscle problems and obesity.
6 responses

• United States
13 Apr 07
yea i agree with everyone else... i know some kids who r just sittin in front of the tv/computer for hours on end...in moderation video games arent that bad

• Philippines
13 Apr 07
i think it depends what kind of video games they play and how long you let them play for. i think the main question is that how much time your kids spend playing them? they sit around for hours and they just want to be infront of tv/computer which is not healthy, that worries me! they also need to play outdoor games and spend adequate time doing homework, reading etc...

• Singapore
13 Apr 07
A video game is just a game. If the children are not playing video games, they would be climbing trees and beating cats. :P It is just an entertaining distraction. That's all. You can use it for good or for ill.

• United States
13 Apr 07
Its not the video games that are spoiling our children. Its like of parents monitoring their children. A parent has the responsiblity to limit the amount of time their child is on the video game. Video games can be educational for a child. Teaches hand eye cordination. Helps some with doing physical therapy with theor hands. There are also things that are bad for children but I believe that if a parent were to take the time to monitor their children they could eliminate most of the problems.

•
13 Apr 07
If you spend loads of time playing them then it could be bad, and sure some of them do promote violence nd breaking the law, but if you choose the right ones then it could benefit a child, some games need a lot of thinking through and have many puzzles to complete, one game took me eight months to complete 8 levels because the puzzles were so hard. So many people moan that computer games are useless and affect our children but the way i see it many of them actually improve the childs thinking and problems solving abilities. Like many things, good in moderation.