Cupcake recipes?

United States
April 13, 2007 2:30pm CST
I would like to make some nice cupcakes for my office next week. The problem is that I don't want to make your average boxed mix cupcakes. Does anyone have any interesting and tasty cupcake recipes or ideas they can share with me? Something a little out of the ordinary would be much appreciated. Thank you!
3 responses

• United States
13 Apr 07
Don't knock the cup cake mixes! I love duncan hines Lemon cake. It's one of the special packs that has lemon pudding in the mix. The cup cakes taste so lemony and are so soft that I could eat 6 myself. Also, if you add lemon extract to some white frosting and put that on top. It's lemon lover's heaven!

• United States
14 Apr 07
I suppose you have a point, but I wanted to brag about making the cupcakes from scratch. Then again, if you doctor up the mix a bit, maybe no one will know it's from a mix. I will still impress people AND be able to avoid all the extra work.

• United States
13 Apr 07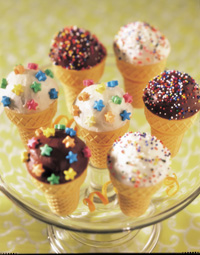 OH! I Love cupcakes. For some reason they seem so much more fun than regular cake ;-) When I was in grade school my mom used to make these super cool ice cream cone cupcakes. They are basically cupcakes in flat bottomed wafer cones, and then you frost them to make them look like ice cream cones. Here's a recipe and a picture of the cuteness.... Cream Cone Cupcakes by the Editors of Easy Home Cooking Magazine Yield: Makes 24 cupcakes Ingredients: 1package (18-1/4 ounces) white cake mix, plus ingredients to prepare mix 2tablespoons nonpareils 24flat-bottomed ice cream cones Prepared vanilla and chocolate frostings Additional nonpareils and decors Preparation: 1.Preheat oven to 350°F. 2.Prepare cake mix according to package directions. Stir in nonpareils. 3.Spoon 1/4 cup batter into each ice cream cone. 4.Stand cones in 13X9-inch baking pan or in muffin pan cups. Bake about 20 minutes or until toothpicks inserted into centers come out clean. Cool completely on wire racks. 5.Frost cupcakes and decorate as desired. These were such a big hit when we were kids. I hope you like them too!

• United States
14 Apr 07
My mother used to make those too. I remember how much my sister loved those. I just remember realling liking to decorate them. Thanks for this recipe. I might have to make these regardless of whether I choose them for work or not.

• United States
17 Apr 07
I have two very different recipes for you to experience, both I have tried, I am a huge baker, so hopefully you will enjoy also: CHOCOLATE CHERRY CUPCAKES Inside each of these cupcakes is a fruity surprise. 1 package (18-1/4 ounces) chocolate cake mix 1-1/3 cups water 1/2 cup vegetable oil 3 eggs 1 can (21 ounces) cherry pie filling 1 can (16 ounces) vanilla frosting In a mixing bowl, combine cake mix, water, oil and eggs; mix well. Spoon batter by 1/4 cupfuls into paper-lined muffin cups. Spoon a rounded teaspoon of pie filling onto the center of each cupcake. Set remaining pie filling aside. Bake at 350° for 20-25 minutes or until a toothpick inserted on an angle toward the center comes out clean. Remove to a wire rack to cool completely. Frost cupcakes; top with one cherry from pie filling. Serve additional pie filling with cupcakes or refrigerate or another use. Yield: 2 dozen. CREAM CHEESE CUPCAKES 1 package (3 ounces) cream cheese, softened 1 package (18-1/4 ounces) yellow cake mix 1/2 cup butter, melted 1-1/4 cups water 3 eggs Chocolate frosting, optional In a large mixing bowl, beat cream cheese until smooth. Beat in cake mix, water, butter and eggs. Spoon batter by 1/4 cupfuls into paper-lined muffin cups. Bake at 350° for 25 minutes or until golden brown. Remove to a wire rack to cool completely. Frost if desired. Yield: 2 dozen.