more money or mone happiness?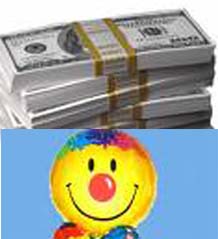 India
April 14, 2007 5:26am CST
What would you choose, if given a chance? - 1) Lots of money but less happines OR 2) Lots of happiness but less money (money enough for your daily basic needs. I would choose 'Lots of happiness but less money'. Being happy is the most important thing in this world. You may have lots of money but if you are not happy than it means nothing. Well, everyone will say more of both, money and happiness but just imagine that you only have the two above mentioned options, which one would you choose?
2 responses

• Philippines
14 Apr 07
Hi Fran! I would rather choose happiness because you can't buy happiness. What would you do to the money can you bring it to heaven when you die? No you can't. but you can bring happiness to heaven. You can't be happy when you have lots of money because lots of people are just pretending to be your friend but if you are in need of them they are not there to help you in times of trouble but not all of the people is like that.

• India
14 Apr 07
Hi Sarapooht, You are right you cannot take money with you when you die. Havings said that, having lot of money is not wrong unless one uses it for wrongful desires. I believe that happiness is a state of the mind, so whether you have money or not you can be happy by just being positive everyday.

• India
14 Apr 07
It is obvious Franthat we also need happiness in our life but we tend to forget about that. There is a short story which a professor tells to his students. He demonstrated pouring a water in glasses whch is made up of two different types .. One cup is made of shiny glass material and another is just a old fashioned plastic cup. When professor asked students to fetch each glass, all the students went for the shiny glass and forget to see how much water was there inside the shiny glass. he actually filled half of the shiny glass whereas he filled the plastic cup completely . Moral is : We earn money only to get happiness .But by the hype and eagerness created by money,We forget to attain happiness which we got by going for money .