What characteristics he/she has that made you love him/her so much?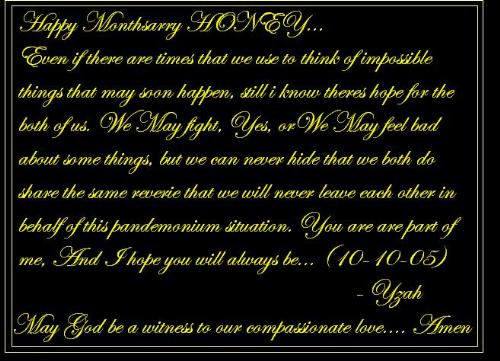 Philippines
April 14, 2007 1:29pm CST
I am 16 years old then and my boyfriend is ten years older than me. He's 26. But I can say, I'm way understanding than him. He's a hot tempered guy. Workaholic, and less time for me then. He usually gets mad at me every time, even though theres no reason to get mad. He's a biy@tch, a spoiled one. I let him be spoiled by me.As we go along our relationship, he is not showing me love, but I prefer continuing it because I love him, in behalf of hardships and him sowing lack of love, I still risk it with him. Time pass, there are sudden changes in our relationship, it's not much but the changes had been good. I'm not on a rush to see him change, coz' i'm willing to wait, and everything is a process. I'm learning from him and he's learning from me. He's a brat and I am not, He's hot tempered and I am patient. It's two different world collaborating as one. And now, for 1 year and 8 months we're doing oh so well.... I LOVE YOU HONEY.....
2 responses

• United States
14 Apr 07
Well all the men I have ever been with where one way at first then months down the road turn out to be assss holes so I could not tell you. Because all it was not them it was lies.

• Philippines
15 Apr 07
Sometimes, you need to reflect on things, you must learn how to give them a chance to change, but if there is no changes in him, leave him, find a greener pasture on things, and mark him as a lesson for all the guys that will come your way. Life is a trial and error, you will never know what will happen next but everything is in your control. You have the free will to run your world as you wish to. So, rock it ethansmom... GODBLESS.... and thanks for the comment ethans mom... have a nice day ahead... (smile)

• United States
14 Apr 07
I know this isn't really answering your question, but if you're only 16, and you've been with this guy since you were 14 or 15, you really don't know what you're missing out there. First off, I don't know where you are, but in most places, that's illegal. And lots of people would say that it's immoral for a 26 yr old MAN to be with a 16 yr old CHILD. Sorry if you don't think so (I know I didn't when I was that old!), but you're just a child. You should be worrying about school and football games, not long term relationships. And if this guy is treating you like you say he is, than you're in for one heck of a miserable life with him. It might be good sometimes, but give yourself a chance to grow up and get to know yourself before you try to reform a b!tchy brat, as you say. Good luck.

• Philippines
15 Apr 07
Sorry but I am now 18 and were going along for two years... And having a relationship requires matureness, being mature is different from being old. Were going along well, he's teaching me to be strong for further challenges in life. You don't know how we cope up with our challenges in life, so don't you ever judge how we get along with each other dear. You're missing the whole point in life. It seems like you want your life to be in a safe zone, have some challenge, it will help you grow, sometimes complicated thing in life makes life more colorful and something you call "A LIFE" and a real one. Don't tell me to worry school, because everything I do is in balance, I have good grades in school, I am a good daughter, I am a good friend, A good GIRLFRIEND, and a faithful servant of CHRIST. So you, what makes you say that? I bet you suffer from a life of boringness.... GOODLUCK DEAR,,, (smile) thanks for the comment....