Rocky Horror Picture Show!!

South Africa
5 responses

• United States
15 Apr 07
"Let's Do The Time Warp Again!" I love Rocky Horror.It is fun.I try to see it every Halloween but you can see it anytime of year. I first saw clips of it in the movie Fame. It was a few years later when I got to see it for the first time.I love the music. Tim Curry steals the show.It is good to see a very young Susan Sarandan sing. I know a true fan can tell you how many times they have seen it, but I have loss count.It is a cult film so it isn't for everyone. "Spoiler Alert". If you haven't seen the film stop reading this post. So if you don't like seeing a mna in women's undies or don't approve of love between two men, you shouldn't see the film.

• South Africa
15 Apr 07
I have often thought if Susan Sarandons children have watched the movie and enjoyed it as much as she must have making it. I have also lost count of how many times I have watched it. I have been a big fan of Tim Curry since he made it. I have not heard of the movie 'Spoiler Alert'. But will look out for it!

• United States
16 Apr 07
No . Kylalynn. I wrote "spoiler Alert" just incase someone who hadn't seen Rocky Horror they wouldn't read on and find out too much about the movie before they see it.

• United States
15 Apr 07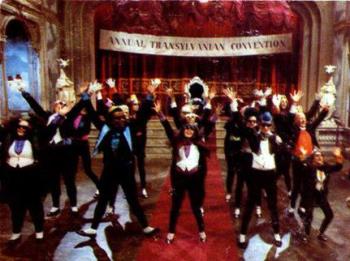 Oh my! Me and my hubby LOVE this movie! We even listen to the soundtrack! It's a classic for sure! I would love one day to go to a midnight showing to see all the fans dressed up! I don't know about dance parties but I've been known to break out in the dance when I'm working at Wal-Mart. LOL

• United States
17 Apr 07
LOL! We did use to participate in a festival that our county had where all the businesses would get together and do skits and things. I suggested it the first year I worked there but they ended up doing something else instead. I thought it would be a riot!

• United States
16 Apr 07
I think it's a great movie. I love going the the movie theather and shouting things at the screen.There's not a shadow cast near me so I don't get to go nearly as often as I'd like.

• United States
15 Apr 07
I've seen it several times. I didn't see the point at first, but it grew on me. Now I just laugh when I see it. And how could anyone resist dancing to the Time Warp? It's impossible! :)

•
14 Apr 07
I love it! I was actually listening to the soundtrack earlier today. Last year I got to see it on stage for the first time. Everyone was dressed up and dancing and it was so much fun. I'll definitely be going again if it comes to town.