Do Gloomy days make you GloomyToo?

United States
April 14, 2007 11:06pm CST
THe weather is dark, cloudy and cold, I didn't want to get up this morning, and I have felt slugish ALL day, I can't get motivated, I just want to sleep, I think it's the weather, I swear this gloomy weather is sucking the life right out of me, Any one else feel this same way?
2 responses

• United States
15 Apr 07
only in washington state where it can be gloomy for weeks, on end, i lived there from 1990 through 1998 some years were beautiful. some times western WA, was the great north wet to me. do not get me wrong i love the great northwest and those little northern girls, lol. oahu lopaka.

• Australia
15 Apr 07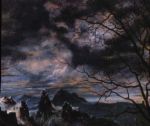 I like sunny weather, when I see the sunlight, I will have good mood and being positive to everything. When it is a gloomy day, I fell depressded and being negative to everything, I may have bd mood,I just want to stay at home and do not talk to anyone, which I will not do normally do. Luckily, I can have sunny days most of the time out of a year in sydney,otherwise, I will have bad mood most of the time..