What's your funniest cat story?

United States
April 15, 2007 11:08am CST
I had a cat, some years ago, that liked to spend the majority of her time in the litter box. It was one of those with the hood, so it looked like a dog house. Well, she would come out, from time to time, but only to relieve herself . . . ! That's right, she lived in the litter box and did her "business" in various parts of the house, though she was quite fond of any stray article of clothing that was laying around unguarded. I didn't raise her from a kitten, so I can't say why she did this, but I still laugh about it to this day.
4 responses

• Canada
15 Apr 07
My Siamese cats love water. Okay, my first one, bless his soul, would get up on the counter only when i was doing dishes, and it was as soon as i started running the water, so i had to stop putting the plug in for a few minutes before i filled the sink, because he would get into the sink raise his head under the spray, and stand there under the water having his 'kitty shower' He did this every day, i loved it, gosh i miss my boy... Also, his baby brother, few litter difference haha, he's now about 7 months, and what he does, is when I'm in the bath or the shower, he comes in, and jumps right in with me. They love the water, and love it even more if i'm using scented products, they always want me to use it on them, and they'll even bite me to get it, but especially my mocha, the little Siamese. He will even freak at the door until i let him in, and the little bugger just a few days ago, learned to open doors.... Ugh, he's so cute, but how on earth can i have a private moment, he's like a child haha.

• Canada
15 Apr 07
ohh, and my first Siamese, he didn't like my ex, so he got between us and kicked him off the bed every night, my ex was so mad one night he slept on the couch, he said it was more comfortable than the floor haha, what a loser, letting a cat kick him off like that haha, and i have another cat, that uses the litter box as his bed, it doesn't matter that he uses it every day, or that the others will get in and pee while he's in there, but every night, he kicks up dust, gets down, and falls asleep haha.

• United States
15 Apr 07
A cat who loves water?! That's an anomaly if ever I've heard one. Too funny. All of my cats have felt otherwise where water is concerned. :)

• United States
15 Apr 07
my calico is so possessive of my brother (her favorite person) that if he is talking to a girl on the phone,she'll walk up and hang it up. i've had to explain to a couple of his female friends that yes,it IS the cat. they don't believe him LOL

• United States
15 Apr 07
That's too cute! She loves her man. *laugh out loud* My calico was very, very vocal. If I was out for too long she'd let me know when I came home. Her meow came out like "skeow," so it would be this long, drawn-out, "SKEOOOWWW!"

• United States
16 Apr 07
she does that too.she'll sit on the post of the staircase looking out the door for him.if he's late,she's mad LOL

• United States
15 Apr 07
I would definitely have to say that this: One day I arrived at my friends how and she told me she loved the new message that I had left of my answering machine. I replied what new message. She told me to call and listen. I called the machine picked up and all you would hear was meow, meow every few seconds. See my friend thought that I had done this on purpose. Boy I wish I would have thought about it. because everyone loved it so much I left it there for a while. What happened is my cat loved to sit on top of the Fridge and since the microwave and stand where next to the fridge, she must have jumped on top of the microwave landing on the record button on the answering machine (on top of microwave) causing only her meow to be heard. This is the story that I always remember. Boy how I loved my cat.

• United States
15 Apr 07
That's so cute! It's too bad you couldn't have saved that onto your computer somehow. It's things like that that make us love our cats all the more. :)

• Canada
15 Apr 07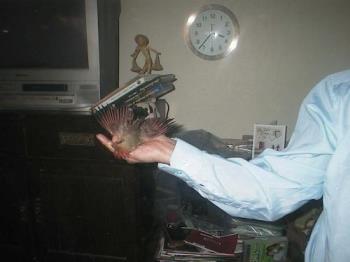 I have a story for you. My boyfriend's cat Mysti is an outdoor cat, and loves to stock her prey and bring home what she catches. Anyway, the bizarre thing about this is that she's so gentle and careful that she manages to bring it home alive, and release it in the house!! LOL Sometimes we'd catch her bringing it in, other times we'd not discover it until later. LOL The funniest time was when she set a bird loose in the house. Another time she brought in a chipmunk. Walker was not amuzed, because the stupid thing chewed through some of his computer cables. When he moved into a new apartment he decided that since it was downtown Mysti shouldn't go outside anymore. Mysti didn't like that too much, and got out one night by pushing the screen out. Walker closed that window, and the next day, thinking it was still open, she took a running leap at it, and bounced right off of it. She didn't get hurt though, so we're still able to laugh about it.