Ice cream for pooch?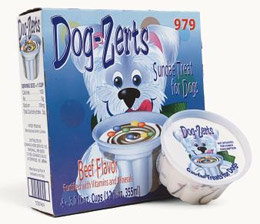 United States
April 15, 2007 4:57pm CST
Schwans Foods is coming out with a special doggy treat that is an "ice cream" designed for dogs. I think it's a great way to treat your pooch to a cool yummie while still being healthy for them! At about $5 for a box of 4 they're even fairly reasonable! Have you ever purchased specialty foods for your doggy as treats?
7 responses

• United States
16 Apr 07
those are so cute Those are like the ones I posted quite awhile ago, but they were just ones I ran across in the store. Frosty Paws. Rascal loves them, though they take forever to unfreeze some, so that he can actually eat them. hehe But such a great little idea for our furbabies. As for your question, I always buy little speical treats for my baby. He's spoiled lol

• United States
16 Apr 07
I must have missed your treat on Frosty Paws. That's a brand I have seen locally too. I never bought them because I honestly never took the time to really look at them in the grocers. Now I'll definitely look, just to see how the prices are compared to the Schwans brand. You can never spoil your best friend too much.. right? LOL

• United States
16 Apr 07
This would be good for our dogs and would be done in one feeding. We have 3 large dogs and one would be broken in two for the biggest boys. We go to the ice cream shop with the sheltie and he gets his own dish and it does not hurt him at all plus he gets to go bye-bye. Thanks for sharing this, I really like Schwann foods.

• United States
16 Apr 07
I love Schwans too and this was just a little something neat and different for the dogs, sort of like a great summer treat for the pooch! I've shared real ice cream with my dogs since day one too but this is a nice way to give them a little more and not worry about any bad side effects to their tummies. Not to mention it's loaded with vitamins and such.

• Canada
16 Apr 07
I don't understand why dogs need special ice cream. I know chocolate, for example, is not good for them. I didn't think dairy was a problem. I can't see buying special doggy ice cream. I buy dog food and dog biscuits and he gets table scraps. I think he's fine.

• United States
16 Apr 07
Dogs aren't supposed to eat dairy, especially ice cream, because of the sugars in the milk. They can cause dogs to have bad stomach problems and diaherrea. It's a lot like a lactose intolerance on the pooch level. My dogs have eaten ice cream with no bad results and I think if it's just a treat once in a while it's fine but these are a form of getting cold treats to the pooch, in an ice cream like form. They're made specifically for the dog, with ingredients that are good for them and vitamins for them. They're the same thing as giving them a dog biscuit but in a cool form, perhaps on a hot summer day. I think it's a neat treat for our pooch friends!

• United States
15 Apr 07
Dogs are NOT supposed to eat ice cream, even if some sterile corporate factory made it "special" for dogs.. Refined sugars and dairy products are not natural and are not healthy. I am sure one of these ice cream things won't kill a dog, but unless One wants their dog to die of cancer, diabetes, or some other disease caused by poor diet, I reccomend a nice slab of raw beef.

• United States
15 Apr 07
It's not an ice cream! It's a frozen treat, beef flavor, made to look like ice cream. They're fortified with vitamins and such for the health of the dog!

• United States
15 Apr 07
I used to but my dogs treats called Frosty Paws at the grocery store. It's a great idea for Schwans drivers if they have an unruly dog on their route they can win them over by giving them a treat.

• United States
15 Apr 07
Yeah! We have Fosty Paws here too. They're pretty expensive in my grocer though. LOL The Schwans man might find a huge customer venue in hitting up the mailmen! Good idea... win them with treats!

• United States
15 Apr 07
No, I still prefer to bake my own treats for my dogs then I am sure they are healthy ones with no hidden dangers.

• United States
15 Apr 07
I do agree. It's the safest alternative, especially in light of the current situation with pet foods.