Do dogs understand each other?

United States
April 15, 2007 6:09pm CST
I'm sitting here in the computer room listening to my dog, Shadow, barking at the house on the hill. He is talking to Mollie, the chocolate lab that lives in the house. She is presently on the balcony. He barks and gives a little whine. She barks differently in response. Makes me wonder if they can really understand one another. Does anyone know? Have there been any scientific studies on this? Thanks
5 responses

• United States
16 Apr 07
I'm not positive, but that is something I've always wondered too! They obviously communicate with each other, but I don't know if there is meaning to it or not. It wouldn't really surprise me if they did understand each other though. Animals seem to be really smart.

• United States
16 Apr 07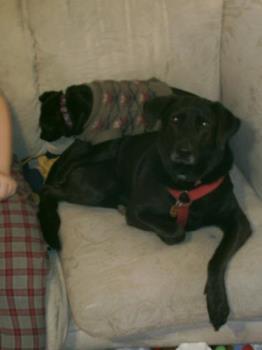 I think they can understand each other. That's just my opinion, though. I know that with my girls, it seems like they can talk to each other. They do several different barks and whines to each other, that they never do to my husband or me. Sometimes when my son was smaller, they would do it to him, too. I think it was because Trixie thought the baby was her own baby! She would push on him with her nose and try to get him to get moving when he was learning to crawl. She would do little whines and barks to encourage him, too. I've also noticed that Blackie, our bigger dog, seems to talk to the dog that lives behind us. Instead of just the normal growling and barking that they do to other dogs, she seems to use several different pitches with him. She seems happy to see him, too.

• Canada
15 Apr 07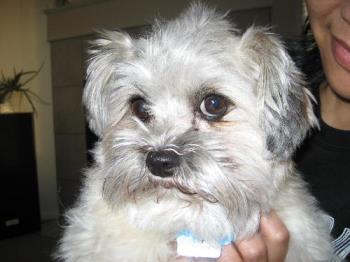 I meant to leave you with a picture, but I forgot, so I am back with it now. I hope I am not accused of spamming??? lol

• United States
21 Apr 07
Recently I saw a show on the Animal Planet with raccoon hunters testing their dogs against each other. The owners could recognize their individual dog's voice and could identify when they found a scent, were on a trail,and had the raccoon treed. So if they could learn that many dog sounds, surely dogs would have many others. But I prefer the cartoon version I saw- I think it was a Far Side. An inventor had come up with a device to translate what dogs are saying. They were all saying, "Hey, hey, hey." Or "HEY! HEY!" Or "Heeeeeey."

• Canada
15 Apr 07
I think they react to each other, but I don't know if that is the same as understanding each other or not. It's like if a dog is alone and normally not unfriendly. Once he is with other dogs and one attacks somebody, they all will. So they go more by instinct because they have an inbred "pack" mentality, but I don't know it it is the same as understanding each other.