Warm Weekend Work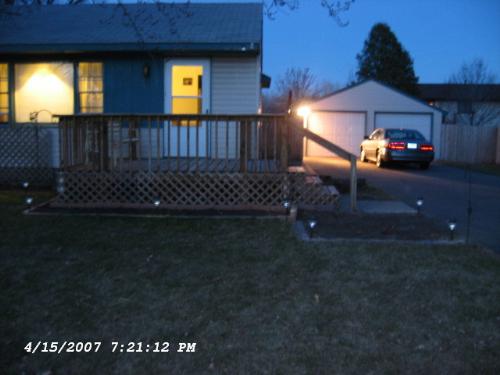 United States
April 15, 2007 10:04pm CST
It's still not warm enough daily to stain and treat my deck. So this Sunday I decided that I've wanted them solar powered lights in my flower beds in my front yard. Menards had the 6 set on sale. I bought 2 sets. 12 lights would be perfect I thought. I wanted the white LED lights not the amber/yellow ones. So I did the final cleaning out the beds of old leaves, debris, and mulch totally. Went and got me my new lights then sat in the yard putting them together. I couldn't wait for darkness to fall to see my new pretty lights. Hahahaha. I was like a kid in a candy store waiting. Anyhow they look really nice I think. Attached is a picture of them taken tonight. Thanks for allowing me to write this and thanks for taking yout time to read it as well as time to look at the picture. Hope you all got one thing done that you've wanted to do for a while. I've wanted these lights for 4 years and just never got around to it. Once again thanks. HAPPY POSTINGS FROM GRANDPA BOB!!~
8 responses

• United States
16 Apr 07
Glad you are getting some good weather to work outside a bit. I bought a Spanish bayonet plant to put in under the windows on the back side of the house. These pretty, but nasty plants discourage anyone from trying to crawl in a window. I also planted three new rose bushes. It's nice to work outside.

• Canada
18 Apr 07
They look wonderful Grandpa. I love that blue hue that they give off too. I do want to ask how bright they glow though, because I don't think it shows too too well in the photo. I know they don't glare, but are they very soft or do they give off a good amount of light? Way to go on finally getting them after 4 years though lol. They say it's better late than never :P

• United States
18 Apr 07
I think they're only 1 watt bulbs. They're not very bright. Just bright enough to see them from the street. They have brighter ones but I don't want those. I like the soft low glow of the blue lights. Thanks for the response also.

• United States
17 Apr 07
Well, I'm glad you finally got them done. :) It looks great! Now, I have some lights that I'd like put around my gardens, and a couple of raised beds, hot house to build and... Oh well, I suppose you don't want THAT much work to do. LOL!!!!

• United States
18 Apr 07
Hahahaha!! I don't think so sweetheart. I told the wife tonight that I am mplanning on making a raised bed around one of my apple trees soon. So theres a few hundred more dollars.

• Canada
16 Apr 07
Well good of you to give the update on the deck, as i wondered/asked how it all worked out. Good Luck with that. We have finally got rid of most of our snow.

• United States
16 Apr 07
Going to be 70 today. Not planning on doing anything yardwise though. I may dig up some of the graden area. The grounds still a bit too wet I feel though. Hope you have a great day also.

• Canada
16 Apr 07
Hey Bob, nice work on the lights...its way too cold here as well to be doing any gardening or outside work like staining the patio, we still have snow lying around this place...in fact, it snowed a little yesterday...but I am just waiting for my tulips and daffodils to pop up through the ground and finally convince me that spring is really here...the LED lights, the white ones are really pretty, they are the nicest out of all thats around, I have a few around the property on Shepard's hooks...the white solar lights show up blue once the sun goes down, don't give off a whole lot of light but just enough to light the way to my door...

• United States
16 Apr 07
Thank you very much. I just looked again at my pretty lights. Hee hee. They really add a lot to the look of the property I feel. A $40 investment probably added $1,000 to the value. Anyhow thanks for the response again.

• United States
16 Apr 07
Looks great Grandpa Bob, in Texas we are not as cold as others so this weekend would have been great to get out and do yardwork but instead we spent the weekend going to the beach so my boyfriend could surf and hanging out with friends. Glad yours was so much more productive than mine. Take care.

• United States
16 Apr 07
Hey Bob, cool lights, It was warm here for a week or so back a week or so ago and my hubby could not wait to get them lights out. this is our first summer here so we had no idea what they were going to look like, but they look good like yours. soon I hope soon to be able to get out and plant some bulbs I have picked up. Got some outside trim work to do also but were gettin itchy to get out and do it. thanks for the picture.

• United States
20 Apr 07
That is pretty. My mom has alot of solar lights to. I would like to get some but cant afford them right now. I did get one thing done that I've been wanting to get around too. I got my home office clean last week. It was horrable & I just kept putting it off untill it just couldnt wait any longer.