how many minutes or hours do u take a bath?/

Philippines
4 responses

• India
16 Apr 07
In summer I spent 1/2 hour for bath and frequency is twice per day, sometime thrice. In winter it reduces to 15 minutes maximum. Showering keeps us fresh for the day. Improves blood circulation in body. Our mind get freshed. Skin cleans. Lot of benefits are there on taking bath. We all should take. Only in Antarkatika, people rarely take bath.

• Philippines
16 Apr 07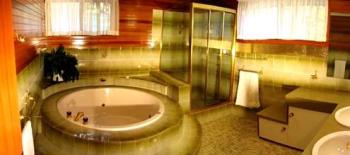 I am making everything just to have a quick bath everyday especially when im going late for my job. Usually i take a bath for 10-15 mins. Well, im not that person with big body that could make me stay longer on the bathroom, or unless Im with someone in there doing something while bathing..lol

• India
16 Apr 07
I just take 5 minutes. My Family says , y do u go inside, wen u have to come out so soon

• Philippines
16 Apr 07
On the average, i bathe for 30 mins. During a rush, i bathe for 15 minutes and on a lazy weekend, i indulge for an hour to an hour and a half tops. i bathe at least three times a day.