Does your spouse/partner snore?

Canada
April 16, 2007 1:37am CST
What do you do about it? My husband snores something awful and I am such a light sleeper that I just can´t sleep if he is making so much noise! My usual solution is to poke him or kick him until he changes position enough to shut up for a few minutes! However there have been times when I just couldn´t take him snoring in my ear all night, so I would turn around and sleep with my head at the foot of the bed! Anyone else have a snorer in the bed? What do you do to avoid being kept up all night?
5 responses

• Philippines
16 Apr 07
-lol- my boyfriend snores really bad the first few times we've slept together and it was really so loud that i got concerned. i used to sleep like a log before but sleeping with him made me a light sleeper all of a sudden coz of the noise. so i experimented a lot of things with him. i tried different sleeping positions, sleep wear, dinners, massages etc. at least in my boyfriend's case these are what i found out to work to minimize the snoring: 1) neck and back massage - at the back of the neck, near the base of the scalp down to the spine. this relaxes the body before sleep. 2) do not drink or eat too much over dinner. let it sit for at least 2 hours before sleep. so your body won't feel heavy during sleep. 3) shower before sleep. this refreshes the body and the mind. 4) sleeping on your side. this creates easier breathing while sleeping. the best is spooning, with the snoring partner on the outer side. avoid sleeping on your partner's chest, this will feel heavy after some time. 5) whatever you do while asleep, be able to reach the back of the neck of your snoring partner. make a few circles like a soft massage, not too hard. this eases the flow of air. 6) check the angle of the chin to the chest while sleeping, it should be less than 90 degrees. more than that can strain the neck thus strains the breathing. 7) try to have a glass of water on hand, so that you have a solution ready for dry throat 8) make the room really comfy, with clean sheets and light fragrance in the air. it relaxes the mind as you inhale the light fragrance. 9) sleep wears should be comfy to move about and a little loose on the neck and back. 10) when sleeping make sure nothing blocks the nose and the mouth and nothing strains the neck. the 10 above, i found, worked well with my bf. now his snoring was reduced and sometimes he doesn't snore actually. this takes a lot of patience at first, especially number 5. coz you have to do it without waking your partner up. goodluck! ;)

• Canada
26 Apr 07
Thank you very much for the solutions! I have tried making him sleep on his side, which works better than when he is on his belly, head twisted to one side. I will try the others as well, though. Also, I have noticed that when he is very tired, he snores more.

• Philippines
26 Apr 07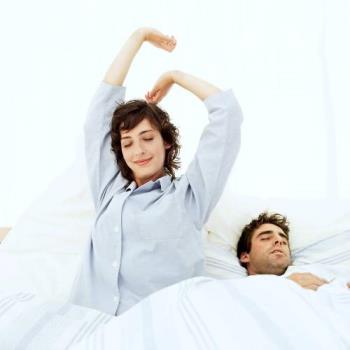 both men and women tend to snore more when tired. that is why it is best to have the body at a relaxed state (1,3,9) and the bedroom in a relaxing atmosphere (8).:)

• United States
16 Apr 07
Oh, yes! My husband and I had a discussion about this yesterday because I think he may have sleep apnea, which is very dangerous. I find if I can keep him on his side he snores less. He just needs to learn to breathe correctly. He breathes heavy through his mouth and it's so loud sometimes I don't know how he manages not to wake himself up! I sleep on the couch downstairs sometimes if I can't get him to stop by waking him up and having him change position. I hate sleeping away from him, but he has to go to work in the morning and I need my rest, too. I've been thinking I should get some ear plugs for myself to drown it out a bit, but my concern is that I might not hear the baby once I have him... I really don't know what to do. It's awful, though, isn't it? I end up mad at him because I get so annoyed, but I know he isn't doing it on purpose or anything... good luck, and hopefully someone else will have an answer for you. I'll be checking back as well!

• United States
17 Apr 07
My husband only snores sometimes. It's our dog that makes all the noise! She sleeps in our bed, and sometimes she lays beside me and puts her head on my pillow. Then she snores in my ear. And then my husband is on the other side of me, drooling all over the pillows! It's a madhouse here all the time. If I'm having a really bad night, I have a cat on my chest with her face on my chin, and the other dog asleep on my belly! I've found that I sleep the best when my husband's already up for the day. I love sleeping with him, but it's just so hard to sleep with him there most of the time. I get most of my sleep in after he goes to work, and then again when my son is down for a nap.

• India
16 Apr 07
Lol.Pardon me GuateMom for the laughter.I can understand how painful it could be,if subjected to regularly. Well!!My husband rarely snores.Thank God!!I'm an insomniac as such.Howzzat??Lol.But yes,he does when he is extremely tired.I ask him to sleep on either sides and not flat on his back.This reduces the frequency and noise if he snores.(What are we discussing!!):D

• Philippines
16 Apr 07
yes i usually woke him up to change position but as you that wont stop him for snoring ... ive even bought him a pills to reduce his snoring habits but it makes no difference so really i do not know what to do but this is a good question i will keep reading reply's from this column to get an idea what to to do thanks