Fireball Erupts over City!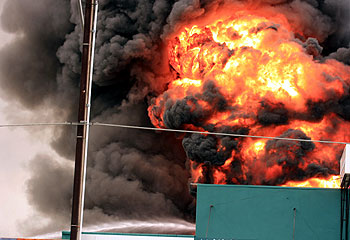 Australia
April 16, 2007 3:49am CST
This afternoon I was driving my daughter home from a horse riding workshop. As we were in the hils I had a good view of the city. All of a sudden I saw this maasive pall of smoke. It was huge, & very black. I turned on the news when I got home & later dioscovered that it as a paint factory on fire. Apparently static electricy ignited paint fumes & the whole place just blew. They had to evacuate nearby streets, & the main road was chaos. At one opint it exploded, and a ball of flame went sky high. Only one worker was injured with minor burns. See the full atricle here: http://www.news.com.au/adelaidenow/SEe the photo attached to view the fireball.
7 responses


• United States
16 Apr 07
yikes! glad you're ok :) it's amazing the damage static can cause. some people think the hindenburg accident may have been similar.

• United States
16 Apr 07
Wow, that would be scary!! I'm glad there were no major injuries. That is hard to believe. That is a rare sight.


•
16 Apr 07
Thank goodness you and your daughter were out of the danger at the time, that must have been really scary for anyone close to it. glad you're ok hun