Ligers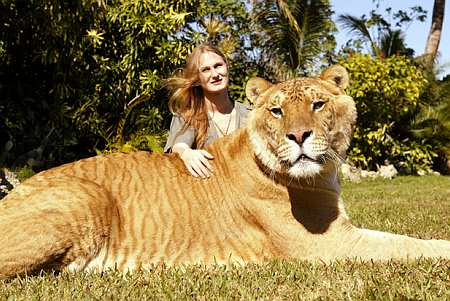 Malaysia
April 16, 2007 8:40am CST
Ok..not sure if this topic actually belongs here but there was not category for tigers and lions.. Anyway.. I was surfing and I found this website called TruthorFiction and they feature this article about Ligers. You really got to check it out. Here's the video and picure links: http://www.shareaflick.net/13244-Liger.html http://www.shareapic.net/content.php?id=1376570&owner=ladyjava This species is huge and ohh so beautiful... you can read about about it more here: http://ladyjournals.blogspot.com/2007/04/liger-anyone.html I just love it...Now.. where can i hug one???
4 responses

• United States
16 Apr 07
Ligers? Well . . . It's pretty much my favorite animal. It's like a lion and a tiger mixed . . . bred for its skills in magic. I'm sorry, I couldn't help myself.

• United States
16 Apr 07
That is too funny my family and I were just talking about Ligers. My cousin teaches in another country and she told us about seeing a liger. We thought she was kidding but they are real. Thanks for the sites I will pass them on to my family!

• United States
16 Apr 07
This is a beautiful animal but I disagree with crossbreeding animals like this. If they keep the animals intact to breed, why? Do they have a program to release some to help keep populations up in the wild? Then why would they mix lions and tigers in the same enclosure knowing that they can crossbreed? You can't breed and release ligers into the wild to keep up the population because there is no wild population of ligers to protect! Keeping them in the same enclosure is asking for fights too which is dangerous to the animals. Just what are they doing with the offspring of these animals all kept together? Yeah, he looks like a big pussycat but these people are foolish! He could seriously hurt one of them with just a playful swat! I don't believe that the tiger that was all the talk from Sigfried and Roy MEANT to actually hurt anyone but he darn near killed him. Just not a good situation all over for the animals or people.

• Canada
16 Apr 07
Hey, if it's a type of cat, I think it would belong in this category.