I am so scared?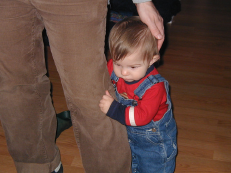 India
April 16, 2007 1:22pm CST
My boyfriend has been really stressed down and not feeling well about his job situation. He has been trying really hard to get a new job, attending all different kind of interviews while working full - time. He has pulled away from me during this time but he did explain to me that he needs to do that. I was not understanding of his stress and I became needy and I started to question him and doubt his love for me. This only made things worse between us. He tried to explain himself again and I asked him if he is avoiding me he got upset and yesterday he told me that he is not happy with me anymore and he is thinking about leaving. I asked him if it's his last decision and he said he needs time to think but he thinks he will leave. I sat down and wrote him a letter, where I said I was sorry for being so needy and mistrusting and I tried to appreciate all the good things he does for me . I am so sad and scared of loosing him . Do u think it's the end?
6 responses

• Philippines
17 Apr 07
Things really would lead to that way because he's already stress out from his work, probably he's thinking your putting stress more on him as well. I guess knowing his situation he would expect you to understand and stand by him to encourage him more. He's probably focusing more on the job but I think you should see first what happens after, I know how you feel about longingness, I've felt that before too. I guess you just have to talk to him with your true reasons why you felt that, if he loves you that much then he sooner or later will be able to understand how you feel. But please do take time to make things right first, you never know he just said that because of his feelings at that time..

• India
17 Apr 07
Oh thanks a lot for sharing. I will try my level best :)

• India
20 Apr 07
Yeah.. I am definitely feeling much better now and I truely hope that earlier days will come back :)

• India
10 May 07
I do not think this is the end. I think your bf is pretty mature and seems to love you. He alsos eems to ahvea good hang on your reltionship. just give him all the time he needs to think (I know its not easy) and he will ultimately come back to you. Every relationship has its ups and downs which you can work out given time and patience.

• India
10 May 07
Dear bindishah Thanks a lot for your great advice :)

• Philippines
30 Apr 07
He is just too stress out today. He is feeling guilty because he don't have a work. He just need some space and time. He don't like to burden you now with his problem and would like to solved it himself. Don't hold too tight you will loss him. Slacked a little bit. He will realized in time that she needed you. That letter you wrote is a good thing. You just have to wait now. Good luck.

• Philippines
30 Apr 07
i do hope its not the end. the best thing you should do is talk to him heart to heart and tell him how sorry you were. but if he is avoiding you and asking for time to think or a space then give him space. let him think but continue supporting him and let him know that whatever happens, youre there for him. but whatever his decision girl, you must accept it and think that it happen for a reason and itshould be a lesson to you also. learn from mistakes. you may loose but i know the right one will come to you at the right time ok. just pray that everything be alright and i'll help you pray also. takecare.

• India
30 Apr 07
Dear thanks a lot for your suggestions.. I m really glad that I am having caring friends like you .. things will be fine :)

• India
20 Apr 07
when a person is stressed for any reason, he need his lover the most for supporting. but you also shud feel that he needs ur support. keep supporting him for few more time. even after that u dont feel he need you or he is not ready to understand ur expectations, its right time to dump him to releive himself and urself from more stress. and dont feel guilty for that. u did ur best and he did his best. if things not workout, try to forget him and give him total space. and keep urself away from love for sometime and be busy in life. am sure u will get ur real love soon.

• India
20 Apr 07
Thank you so much for your great advice :). I think you have a point.
• United States
16 Apr 07
Finding a new job is stressful, and if this is how handles it - then let him work it out. By harping on him only makes it worse, if he didn't care he would no try to explain himself.

• India
17 Apr 07
Hi .. Yes I guess u r right. Thanks for sharing :)