How do you think about scandals in acadamy?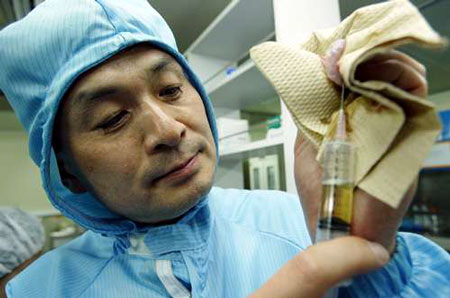 China
April 16, 2007 9:42pm CST
I really hate cheats and scandals in acadamy.And I feel very upset these days because I was embrassed .MY professor give me a subject letting me to study moreover.But she is not concern of me as she is really very busy in negotiating with other experts or managers.So my actural guider is a master school leader studied in the same region who is also our professor's student. What really irritated me is that my leader did nothing to help me in experiments and he is now enhancing me to make some datum.I am annoyed.and I 've found one of his already pubilished dissertation is a cheat.About a half data in his article were finished just in mind .He just threw awayall data he disliked at randon. I really cannot bear it anymore,and I 've given a call to my professor already.How do you think about this?tell me your attitude,please.
3 responses


• China
20 Apr 07
Two days before,I have met our professor and i've told her the whole things.First,she promised to critic his cheating behavior.Then after a few minutes silence,she told me " this is realistic life and you should keep a good realtion between you and your fellow leader."WHEN I heard these words,I felt frustrated proundly.She just meant that I shouldn't accuse my fellow leader to her any more,as I've got to know the false article published with her signature as well.And she didn't want to let me to point out mistakes.This is the whole thing,I fell despair,helpless.I really can not believe what i've heard from her as she used to be very strict to us in acadamy.I know it is all the false,and I am just a stuip in college .When most of our fellows were forging data, I still do my experiments strictly alone even in midnight.Right then ,I got to know what the truth is. However,I feel discouraged.I will work more harder,learn English better,then go aboard pursuing advanced studies.

• India
17 Apr 07
Really, scandals in academies are the most undesirable incidents in a well cultured society. Any sort of scandal in academies must be dealt with severe punishments irrespective of professor or student or the adminstration. Since lives as well as future of many promising students are to be well build up and shaped in academies, it is the prime duty of any professors and administration to give prime importance to the students' welfare and facility for study as well as researh activities. All must be careful and responsible for a scholatic and cooperative environment in academies and any sort of irresponsibility in this must be severely dealt with. Thanks.

• China
17 Apr 07
Thank you very much for sharing.This afternoon,I will meet my professor.She promised to justify the case.I am ready to face it becasue I know there is no aother way can solve this problem.I can not bear someone forcing me making up any data.blessing me!

•
14 May 07
I think you should concentrate on your studies my friend and do not look left or right. I know you are upset with the atitude and misconduct of you elders and take this as a lesson not to become corrupt yourself. You may not be able to change them but you can use this as an example to guide your own actions and not to become corrupt or ill mannered as others are. I hope you stay pure in your heart and not let other people's negative actions drive you to reacting negatively. Only a positive reaction can cancel out a negative one. Take care.