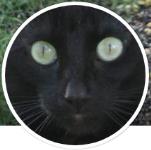 JJ
@myklj999 (29021)
Olney, Illinois • Age 59
Joined myLot 13 years ago
Far above the Hedgehogs, he cried, that is where they dwell. To wreak havoc upon our inner goblins, to squelch our turbulent fish heads with dreams of tapioca.
Users JJ Is Following
myLot_Payments
@myLot_Payments (98)
•

United States
5 Sep 06

This user has no bio!
4 following
myLot Contact Us
@myLot_ContactUs (0)
•

Kansas City, Missouri
31 Oct 06

Send us a message here with any questions you have about myLot. We'll reply if we can!
0 following
myLot Bugs
@myLotBugs (195)
•

Kansas City, Missouri
20 May 13

Follow this myLot account for the latest news on bug fixes and new releases. Report a bug by mentioning @myLotBugs in one of your posts, responses or comments.
0 following
GoAskAlex_Admin
@GoAskAlice (4483)
•

United States
22 Dec 11

Official moderator and "go to" administrator for Mylot..
5 following