Did you sometimes root for the Coyote to win in the Road Runner Cartoon?

Beaver Dam, Wisconsin
3 responses

• United States
25 Oct 06
YEAH, like every time! I hate that arrogant road runner!!! He thinks he's so FAST. LOL

• Beaver Dam, Wisconsin
27 Oct 06
And he's so arrogant, he always takes the time to stop and taunt the coyote. Just once, I would like to see another boulder come crashing down unexpectedly and crush him too.

• United States
3 Nov 06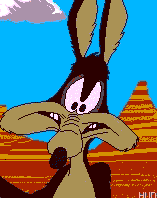 He DOES taunt him, doesn't he?!? Well, I'm for the coyote all the way! ;)

• Canada
3 Nov 06
I ALWAYS rooted for the Coyote! It's not that I disliked the Roadrunner... I found his casual intelligence entertaining. But for some reason I often have a tendency to root for the bad guy, and the Coyote just tried SO HARD!

• Beaver Dam, Wisconsin
3 Nov 06
The coyote was inspirational. No matter how much the Road Runner beat him up, he never gave up.