LOOKING for the best BROWNIE recipe, ANYBODY have a FAVORITE they wanna share?

United States
April 30, 2007 1:57pm CST
My two girls (ages 7 and 8 years old) love brownies and cookies and I am always trying to find recipes to share with them when they come to stay on the weekends. I love to bake and am always baking cookies, cakes and pies but rarely brownies so I am seeking your best brownie recipe that you wanna share with me.
6 responses

• United States
30 Apr 07
This recipe comes from the Barefoot Contessa. My mom has made them several times and everyone LOVES them. They're rich and delicious. It makes about 3 dozen regular size or 2 dozen LARGE servings. Outrageous Brownies 1 pound unsalted butter 1 pound plus 12 ounces semisweet chocolate chips, divided 6 ounces unsweetened chocolate 6 extra-large eggs 3 tablespoons instant coffee powder 2 tablespoons real vanilla extract 2 1/4 cups sugar 1 1/4 cups flour, divided- 1 cup for batter and 1/4 cup in the chips and nuts 1 tablespoon baking powder 1 teaspoon kosher salt 3 cups diced walnut pieces Preheat oven to 350 degrees F. Grease and flour a 13 by 18 by 1 1/2-inch sheet pan. Melt together the butter, 1 pound chocolate chips, and bitter chocolate on top of a double boiler. Cool slightly. Stir together the eggs, instant coffee, vanilla and sugar. Stir in the warm chocolate mixture and cool to room temperature. Stir together 1 cup of the flour, baking powder and salt. Add to cooled chocolate mixture. Toss the walnuts and chocolate chips with 1/4 cup flour to coat. Then add to the chocolate batter. Pour into prepared pan. Bake for about 30 minutes, or until tester just comes out clean. Halfway through the baking, rap the pan against the oven shelf to allow air to escape from between the pan and the brownie dough. Do not overbake! Cool thoroughly, refrigerate well and cut into squares.

• United States
30 Apr 07
Thanks I love the Barefoot Contessa, I just ordered his latest book online.

•
3 May 07
My mom used to make brownies but before she popped it in the oven to bake she made a cream cheese mixture with powdered sugar and spread that on the top. Then she put it in the oven and baked the brownies. The cream cheese filling would sink a little so when you took it out of the oven it just looked like regular brownies. Then she put a dark chocolate frosting on top. They were yummy. I think my wife has the recipe somewhere. Sorry it doesn't really help you now!

• United States
3 May 07
Ohh that sounds yummy, if you can get the recipe from your wife it would be greatly appreciated, I am sure my girls would love to have that one. Thanks

• United States
1 May 07
I hate to confess but I always buy boxed brownies and then might add things from there. My favorite thing is to create Raspberry Chocolate Brownies by adding a 1/2 bag of raspberry chocolate chips (I believe they're made by Hershey's) to the mix. I've also added 3 tablespoons of marshmallow fluff to the batter after it's poured into the pan to get a marshmallow ribbon through it. And of course, topping with a little peanut butter and melted chocolate drizzled on top after their baked is darn good too! LOL

• United States
1 May 07
My fav brownies are what's called blond brownies. Mom's original receipe was a little different from this, but now I just make a toll house cookie receipe & dump it in a cake pan & cook it like a brownie rather than in individual cookies (I'm too lazy a cook for that!)

• United States
30 Apr 07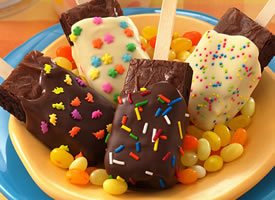 hey i have a third for you too..this is one i found that i think your girls will love making and eating even more!package Betty Crocker® Original Supreme brownie mix (with chocolate syrup pouch) Water, oil and eggs called for on brownie mix package 24 wooden sticks with rounded ends 1 package (6 ounces) semisweet chocolate chips (1 cup) 2 teaspoons shortening Assorted Betty Crocker® Decor Selects decors or sprinkles 1. Heat oven to 350°F. Line 13x9-inch pan with foil so foil extends about 2 inches over sides of pan. Spray foil with cooking spray. Make brownies as directed on package for 13x9-inch pan; cool completely, about 1 hour. 2. Place brownies in freezer 30 minutes. Remove brownies from pan by lifting foil; peel foil from sides of brownies. Cut brownies into 24 rectangular bars, 6 strips lengthwise and 4 rows across, each about 1 1/2 by 3 1/4 inches. Gently insert stick into end of each bar, peeling foil from bars. 3. In microwavable bowl, microwave chocolate chips and shortening uncovered on High about 1 minute; stir until smooth. If necessary, microwave additional 5 seconds at a time. Dip top third to half of each brownie into chocolate; sprinkle with decors. Lay flat to dry. ENJOY!

• United States
30 Apr 07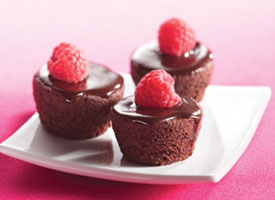 hiya there! Girrrrl do i have some great recipes for you!! the first one id my absolute favorite ever!! omg it sooo good.!! and ill find a pic online and see if i can post it here,,your mouth will water til u make it! lol! let me know if u do and how it was ok? ight here ya go!1 box Betty Crocker® Original Supreme brownie mix (with chocolate syrup pouch) 1/4 cup water 1/3 cup vegetable oil 2 eggs 2/3 cup whipping cream 1 cup semisweet chocolate chips (6 oz) Fresh raspberries, if desired 1. Heat oven to 350°F. Grease 48 mini muffin cups with shortening or line with miniature paper baking cups. In medium bowl, stir together brownie mix, water, oil, eggs and syrup pouch until well blended. Fill muffin cups about 3/4 full (about 1 tablespoon batter each). 2. Bake 18 to 20 minutes or until toothpick inserted in edge of brownie bites comes out clean. Cool 10 minutes before removing from pan. Cool completely, about 30 minutes. 3. In 1-quart saucepan, heat whipping cream over low heat just to boiling. Remove from heat; stir in chocolate chips until melted. Let stand about 15 minutes or until mixture coats a spoon. 4. Spoon about 2 teaspoons chocolate mixture onto each brownie. Garnish with fresh raspberries. High Altitude (3500-6500 ft): Line mini muffin cups with miniature paper baking cups; spray paper cups with cooking spray. Follow High Altitude directions on brownie mix box for making batter. Simplify Bake brownies in a 13x9-inch pan. Top with ganache. Cut into small squares and serve in miniature paper or foil baking cups. omg its soo gooood!!lol!and... 1 package Betty Crocker® Original Supreme brownie mix (with chocolate syrup pouch) 1/3 cup water 3 tablespoons vegetable oil 3 eggs 1 1/2 cups fruit granola, slightly crushed 2 1/2 cups miniature marshmallows 1. Heat oven to 350ºF. Grease bottom only of jelly roll pan, 15 1/2x10 1/2x1 inch. 2. Stir brownie mix, chocolate syrup, water, oil and eggs in medium bowl about 50 strokes or until well blended. (Mixture may be lumpy.) Spread evenly in pan; sprinkle granola over batter. Bake about 20 minutes or until toothpick inserted 2 inches from side of pan comes out clean or almost clean. 3. Sprinkle marshmallows over granola. Bake about 5 minutes or until marshmallows are golden brown. Cool completely for easier cutting, about 1 hour. For 45 bars, cut into 9 rows by 5 rows