Ever wonder about getting rid of your body odour...???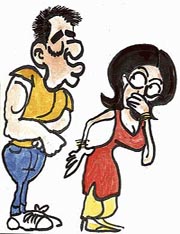 May 1, 2007 1:33am CST
it's just so easy..just get a bottle of johnson & johnsosn baby oil and get your body massage..like under arm massage.. and then you will be free from body odour..this is personal experience.. just wanted to share
2 responses

• India
1 May 07
If you are keeping yourself very clean, as you seem to be, then it might be a specific medical problem to do with the make-up of your particular sweat. Go and see your doctor and discuss, sometimes it can be controlled by diet I think.One other suggestion - make sure you are using a good washing powder and a hot enough wash - if your clothes aren't completely clean then the bacteria that cause the smells and the smells themselves can linger and so when you wear the clothes and sweat on them a bit/warm them up, the odour is released again. This will particularly happen with artificial fabrics, so make sure you always try and wear natural fabrics like cotton.

• Philippines
1 May 07
Yeah, i noticed for those shirts that i am wearing, at first they don't have odor on it then after i've used it with some sweats on it, i noticed that it is kinda smelly...Thanks for this tip, I'll try to do it and wash my clothes with some hot enough wash....