cleaning your ears?

United States
5 responses

• United States
1 May 07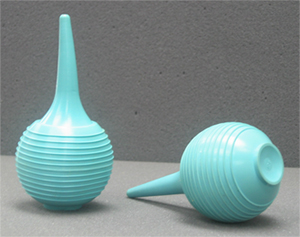 It may also be what you are cleaning them with. Technically you should never put anything into your ear canal as it may damage your ear drum. If you are cleaning them with something sharp, like a hairpin, you may be scraping out skin or hair folicles that are needed to protect the ear canal. Ear wax is essential to your ear. It helps prevent against bacteria, fungus and provides natural lubrication. So the removal of too much wax can be detremental. If you really feel the need to clean them, try flushing them with a warm soapy solution. You can buy a rubber bulb syringe, fill it with the solution and gently squirt it into the ear canal. Do not insert the bulb into the ear. Only the solution.

• United States
1 May 07
Thank you, I will definitely try that. I have some of those suringes at home already. I have tried peroxide as well? Does that work as well as soapy water?

• United States
2 May 07
I had no idea! My aunt that was a nurse used to tell me to do it. I Will limit it.I normally only use peroxide one time a month or less... Thanks for your input :)

• United States
2 May 07
i would have to say maybe you are scraping the skin in your ear with the instrument your using..you know the saying too much of anything isnt good for you..my husband was in the navy and used earplugs all the time to the point that they would push the earwax further into the ear canal..so he was almost deaf at one time..he went to the doctor and the doctor gave him a syringe and told him to rinse his ears once a month with very warm water and peroxide..1/2 and 1/2 solution and irrigate well..well of course its difficult for him to do it himself..so i do it for him whenever his ears feel blocked and everytime i do it i see what i call "creatures" evolve!lol..its hardened ear wax but its alot of it and once its clear he says he feels so much better..after doing that 1 drop of mineral or sweet oil into the ear canal softens the wax so removal is easier and it keeps the wax soft as it hardens as it dries up.. hope this helps!


•
1 May 07
I suppose it depends on how much is too much. I clean my ear every day using ear swabs and never have any irritation. I can understand why your doctor is saying that though. Sometimes if I use the ear swabs too much, my ears go dry. They don't go itchy though. But as a comparison, if my hands go dry from too much washing, they do go itchy. Using lotion helps my hands. Is there such thing as lotion designed for the ears?

• Singapore
1 May 07
Oh no, be careful... ears are very sensitive. When you clean them of the ear wax, be very very careful and don't dig too hard. If you feel something severe had happened, please do visit a doctor for professional examination.