Ever own an APOLOGY..but never apologised...to anybody..???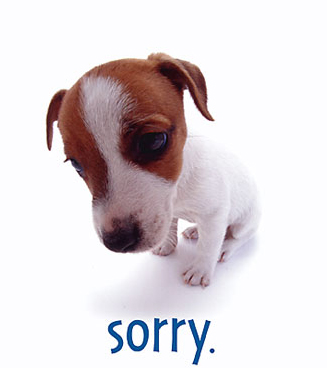 May 5, 2007 11:41am CST
Just because you were afraid..just because time wasn't right..
3 responses

• Canada
5 May 07
I'm pretty quick to apologize, and can't relax until I've made amends with anyone I think I've wronged. I'm not sure if it's due to personality or upbringing. My parents were always quick to make up after an argument, and I learned that apologizing usually leads to forgiveness, better communication and a more enjoyable relationship with the person afterward. I know in some people's experience, apologizing doesn't lead to such positive results. The person who was wronged, might use the apology as an opportunity to further vent their anger and refuse forgiveness. I can see how a person who grew up in an environment like this, might not feel as comfortable with apologizing.

• Canada
5 May 07
It's too bad that people do this. Although I love my mother in law very much, I think this is what she used to do with my husband. He was completely surprised, the first time we ever had an argument and I apologized. I also he notice he has a tendency not to forgive people without reminding them about how terrible whatever they did was when they apologize. I've talked to him about looking at the big picture though, and he's coming around to realizing that it's way more pleasant to forgive people and enjoy their company rather than push them to the point, where they wish they'd never apologized and avoid him.

• United States
5 May 07
I always apologize if I am wrong, or hurt someone by accident. Not to do that is pride, and pride is a sin. I rated you another + for a good post. Be sure to rate us too honey. Especially the "best response".

•
5 May 07
I usually rate after seeing a discussions and thanks for the suggestions too. I do apologize when I hurt somebody but sometimes don't you think we just can't apologize and the situation even make it worst to apologize.It's not about pride but sometimes it's just happens this way.

• Pakistan
5 May 07
An apology is just not a word for saying sake, it is spiritual and comes from your heart which tempts your consious if you really have done something wrong intentionally and you feel sorry and sad then you think of an apology and if you dont apologise you will feel guilty and will haunt you wherever you go. So, you have to be humble and give a good tap for yourself, and apologise and then you will be clear minded and light as a feather and he happy the rest of your life.