Don't you Just hate it when happens? Arrrrgh!!!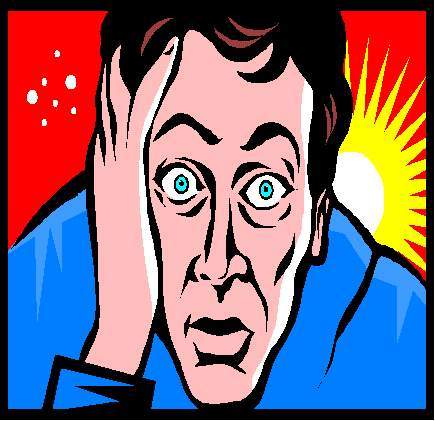 May 8, 2007 11:05am CST
Getting caught off your guard. I believe in always being prepared. EVERYDAY, i go to work, ON TIME, fully dressed, looking sharp, trying to look my best, armed with my best time pieces and writing instruments and NOTHING happens. Today, JUST one day out of all days, i arrive a few hours late, looking like crap, forgetting my "office" weapons. finding about 20 people trying to locate me as well as the god-dam CEO, to attend an important meeting with clients from freeeking Japan!! I attended the meeting with full embarrassment, getting disdained looks from my boss and the CEO and with a stupid smile on my face! sometime i wonder, why be prepared @ all. *rolls eyes* Have you had days like this? Don't you just hate it when it happens?
4 responses

• United States
8 May 07
It's Murphy's Law at work, my friend! :) That Law says the very moment you expert NOTHING to happen EVERYTHING happens, and usually it's not good! :) Have a cheerful day and look on the bright side, the clients probably think that you are a genius, and that your boss allows you to do what you want at work because your so good! :) LOL! Expert Village for you: http://www.expertvillage.com Sure glad I'm out of the Rat Race after retiring 7 years ago...I never could out run those damn things! :) Cheers!

•
8 May 07
I love your comment sir. I strongly believe in Murphy's law. Not that I'm negative and pessimistic all the time, but things like that DO happen and God!! how I hate it when it does. LOL thanks for the link too.

• Canada
8 May 07
There are alarm bells ringing here, I do not know of any one that would every day go to work as you say you have every day, and then out of the blue break each and every one of your own rules. The only explanation is a mental break down, and I do not believe that. This is not getting caught off guard this is just plain foolishness. And if it is true and you do lose your job, I hope the first thing you change is your attitude.

•
8 May 07
OUCH!! You sure hit it on the head here ma'am. I am going through some difficult times
@
the going moment in my life. I know it's not gonna last long. but I am running out of patients. As for changing attitudes, I assure you, I am a totally different man than I used to be. Yet, I find it real hard to stay on track and just "snap", just like today. The problem is, I always snap
@
the wrong moment. A leopard can't change his skin, so they say. and you seem amazingly experienced! and that deserves respects. Appreciated. :D

• Canada
8 May 07
Sorry I didn't mean to be so harsh, If it is any help, I would recommend that for the time being, that When at work focus on work, and when at home work on your problems there. I do understand that it can take charge of you mind, and the way to pull it back in to perspective, is ask your self, "Who is in charge here Me or my emotions". As you have already experienced, emotions can and do lead us all over the map. So have a compartment or file folder in your mind where you say to your self I will put this away for now and deal with it at a proper time and place, and then just do that. You understand priorities very well, this is just another file for your priorities, and when you have the time do deal with them or get the help you need. I truly do wish you well.

• Saudi Arabia
9 May 07
Have i had days like that? Yes Do i hate it when it happens? Honestly yes Hey i always do my best to reach work on time but there are a few times where i don't know i just switch off the alarm clock in the morning and fall asleep again but damn when i get 2 work i feel emabarrassed and try to work hard and fast to make it up for Mr. Work. There was one time where i had 2 stay late nite, it wasn't my norm, even if i stayed late, it doesn't go beyond 2 am (usually). On that nite, i slept at around 5 am and by the time i got to work it was around 12 noon time, my boss didn't like it but s.h.i.t happens, right?

•
9 May 07
Hey, Thanks for the response. They are very very STRICT about time keeping. they could duct your pay for one minute late. I was late FOUR HOURS! sheesh. and I wish $.h.i.t would be happening now! I am on full alert and on call, fully dressed and formal READY for anything, YET sitting here doing nothing, LOL

• Canada
8 May 07
I know exactly what you mean. I usually try to look my best when I go out shopping or to work etc. But some days I wake up and just can't be bothered. I just want to be comfortable and where old clothes and shoes, those are the days I run into people from the past or someone new starts work and think I am a slob when in reality I usually am not.

•
8 May 07
Exactly. I would go wearing the same exact clothes, colors, accessories, etc... just to be identified by them or to have them as my trademark, if I have to. But GOD i wish that would happen when it really counts to happen. unlike today. I had a bad day & whatever impressions i gave about myself, may last a long time. but it was honestly unintentional!!