Are you ready to start earning a new fortune?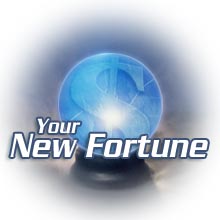 United States
May 9, 2007 5:05am CST
I have been a member of PTC & PTR for many years now, but until I joined myLot, I didn't realize the huge potential when utilizing the right vehicle. My team here has already helped me double and triple my earnings daily in a short few weeks. You start off totally for free and yes, the earnings are small to begin with, but you do NOT pay anything out of pocket. My first day, I earned around 25-cents, but it has grown to dollars daily now with my exploding referral base. My uplines are earning almost $10/day with it. The keys are patience and a little effort every day. I am only interested in serious players here, so please send me a private message, but answer me this question here: why are you interested in my team?!? Are you ready to start earning a new fortune today?!?
9 responses

• India
9 May 07
Thanks a lot. Good site You posted up there how did you do it. HTML. or SITE BUILDER Checkout mine also. http://www.freewebs.com/mohit1123/


• United States
10 May 07
There are many ways to join my team as I currently am a member of a few great sites that build residual income. The best way to learn and grow with my success team if to jump in with the right vehicle, which is found on my blog: http://www.dothanclassifiedads.com/runningman72.html

• India
10 May 07
Well how long have you been a member and when you say you have now started almost $10/day - Is there something different from what you were trying or doing before on this web site or do you have any tips to go on ahead. I would be interested on how to - just joined this club

• United States
10 May 07
You have to start off somewhere, and my suggestion is small, baby steps with a great free program, followed by more effort down the road if you desire to really grow. The cool thing is that this is totally free and we teach you a system that builds solid residual income for the future where you do 1% of the work and your team the rest! Visit my blog when you are ready to join my success team: http://www.dothanclassifiedads.com/runningman72.html

• India
10 May 07
Yes I am ready to join your team.But I dont what is the way to join with you

• United States
10 May 07
The best way for you to join my team is to take the first step by signing up for the program described in detail via my profile. There are additional steps after that which will further maximize your income, but you must start with the free program which is highlighted in my profile please.

• Indonesia
10 May 07
i am ready to start make a big earning with new fortune but i want to know what kind it is and how is work.i think its possible to make an extra money in a month with joining many sites that offer how to make extra money.so tell me how to do.

• United States
10 May 07
Details on how you can turn pennies per day into dollars per day by building a solid residual income can be found on my blog by visiting http://www.dothanclassifiedads.com/runningman72.html and I wish you much success in your online endeavours.


• United States
9 May 07
I would love to be making some money, serious money and I am not afraid of work. I cannot afford the programs that require money to start or maintain membership. So my question to you would be why should I be interested in your team?

• Australia
10 May 07
Hi Runningman, well it would all depend on what site you are talking about and if they paid into paypal or not as this is the only paying site that I use but that is wonderful that you are earning so much money now I am very happy for you and wish you much success in the coming days.