Work related: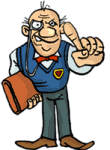 United States
6 responses

• United States
14 May 07
Totally true. It seems like if you know the boss or their family you automatically are raised to a new level. I have worked for the same poeple for 22 years and see it everyday. I am not a brown noser..but some are and they do get special treatment. I however do not mind as I do my own thing on my off hours and consider my job to be the vehicle to get me where I want to be. Self employed!

• United States
14 May 07
Self employed sounds good:-) Thanks 4/answer!

• United States
15 May 07
O definitely.. I know several people who have got jobs that they were not qualified for.. They only got the position because of who they were realted to. The mayor of Detroit got all of his unqualified relatives and friends jobs for the city. Oh yeah what about the president of the United States.....lol

• United States
19 May 07
Oh yeah, we must not forget the Bush man ...lol:-) I agree 100%

• United States
15 May 07
This is one of the reasons I left my job, it got to the point you didn't have to have a brain in your head. Some of the people that came before I left got their jobs in some questionable ways if you know what I mean. It is a sad thing but it is going on more and more especially when your job is politically connected.

• United States
19 May 07
Especially when your job is politically connected is right! .... Thanks 4/answer

• United States
14 May 07
While this statement is true for some and used widely in the work force, I had rather know that I was respected and wanted because of the quality of work I do. I know people in my husband's work place that use 'who they know' to get ahead instead of doing quality work. Trust me, none of them are very well liked and are all known by one thing, and it's certainly not their work ethics. While the statement might be true for many, I know it's not true for my husband. He is known for the quality work he does and the knowledge of his chosen field. Respected too.

• United States
14 May 07
Great answer! Quality work from quality people:-) Ty.

• Singapore
14 May 07
Yes specially in my work place. In my country, when you work for the government, that saying is ALWAYS true. I've seen new people being promoted over those who are more qualified and more senior than them because of the newbie's "connections". I really hate it. I feel sorry for those people who get bypassed just because they don't have "connections".

• United States
14 May 07
That's so true, what happened to best man or woman for the job? Hmmmmmmm, it's really no right! Thanks 4/answer:-)

• United States
14 May 07
I have never had it personally affect me, but I do believe the statement is true, because I have heard a lot of stories about people who have benefited greatly at a company from knowing someone who was a "top dog." I don't really think it's fair, but that's the way the world goes and not everything is going to go your way. I wish that would benefit me! Lol.