How to you feel about fireworks?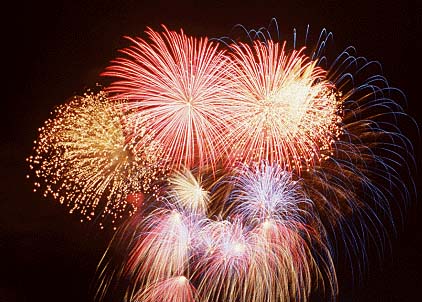 Canada
May 16, 2007 11:04am CST
It's that time of year, and I hate our Victoria Day weekend here in Canada. The annual stories of idiots that have either blown their hands off or set their houses on fire should be starting anytime. I think there should be an all out ban for people to go and buy their own fireworks. Leave fireworks to the professionals.
5 responses

• Canada
16 May 07
my father owns a camprground and he puts off firworkds there but so far no accidents have happened. he's been doing it for years so he knows what he's doing. i love fireworks. i had seen at a casino once they have for a week or so a firworks contest from country's around the world. they make it go to the different country's colors and music and it lasts like 20 minutes a night. they have such different fireworks and it's so beautiful.

• Philippines
16 May 07
yeah...i agree...only professionals should do the fireworks...during christmas and new year here in the philippines there are a lot of people who get injured because of using them...fortunately in our city(davao) it is banned so no one gets hurt

• Canada
16 May 07
I wish it was banned here. There are too many people getting hurt.

• United States
16 May 07
I love fireworks but only the ones set off by professionals. The others not only annoy me but frighten me as they seldom have any safety measures in place.

• United States
16 May 07
You and I are on the same page here. Fireworks are against the law for residents of this state for that very reason - people are too stupid to keep from setting themselves or other things on fire. People smuggle them in from other states and the fines for that are pretty stiff . . . but only when they're enforced. It's a frustrating thing. I used to live where you could use them anytime you wanted and people were shooting them out PVC pipes in the middle of apartment complexes. Made me ashamed to be a human when I saw that.

• Philippines
16 May 07
I love watching fireworks, it does something to my heart... different feeling. But I don't fire fireworks, because my hands are precious to me. I only fire sparklers-those are safer.