Senior Trip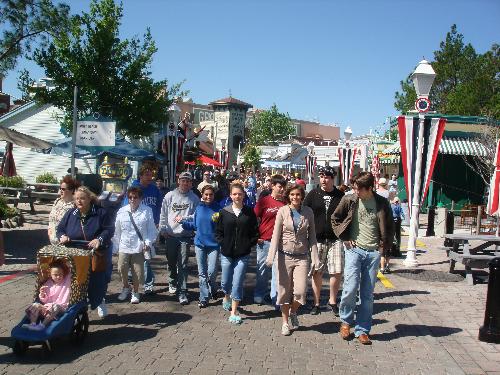 United States
May 23, 2007 8:31pm CST
Many of you sent messages to Kristen before she went on her Senior Trip back in April about what to ride once she got to Disney World. I thought you might like to see a photo of her and the rest of the Senior's at the Magic Kingdom. She had an absolute blast on her trip. What is the best vacation you've ever taken?
3 responses

• United States
24 May 07
I'm glad to hear she had a great trip and that she had a lot of fun. Senior trips should be a blast and memorable. I'm glad it was for her. I've been on a lot of vacations over the years. Not really sure which was the best. They've all had their ups and downs. I loved going to Disney World and also Universal Studios. I've also enjoyed going out west or on cruises. I can't think of one though that stands out to be better then the rest, at least not tonight.

• United States
30 May 07
I've never been on a cruise. My son has, and my daughter wants to do an Alaskan cruise for her honeymoon. I don't know if they will or not. Have you been to Alaska, or the Carribean, or what? I'd be curious to hear about your cruising experiences.

• United States
31 May 07
I'd love to take an Alaskian Cruise. I've done the Carribean and also the Gulf. We did one that went to New Orleans along with Mexico. It was great. Cruises are a great way to travel and see things. Your food is all included, you don't have to worry about things as much and there is plenty of things to do.

• United States
10 Jun 07
My son's senior class went to Cancun, and The Cayman Islands two years ago. They had a ball. James did fall asleep the last day of sailing on the deck and came back sunburned.!


• United States
24 May 07
I wanted to take my kids on one really big trip before they moved into the real world. They asked if we could go to San Diego, as that is where their dad and I lived when we were newly weds. My hubby and I took them, we drove. On the way out we stopped at the giant meteorite crater in Arizona, and on our way back we went to the Grand Canyon. In San Diego, actually, Chula Vista, we stayed at a beautiful KOA camp. Our interests are along the line of science and nature, so we went to the San Diego Zoo, Sea World, and lots of beaches.We also crossed the border to Tijauna. We went to a free museum of automobiles in Balboa Park. My son went to LegoLand,by himself, as the rest of us felt like the admission was too pricey for what it was. It was exhausting, but fun, and it was one way for us to bond as a family as I had remarried the previous year.

• United States
30 May 07
My aunt and uncle were stationed in San Diego when I was a little girl. We went out there several times. I remember going to the zoo and Sea World! I've been to Sea World in San Diego, Orlando and San Antonio now. It's probably one of my favorite things to do.

• United States
24 May 07
I am answering this from my email and cant see the picture yet. Did you have fun? Wow she had a blast huh? I bet she did. Can you imagaine going there with your frineds? I would love to go to Disney World. Did you go with her?

• United States
30 May 07
no, I didn't get to go with her. My boss and his wife went with them. There were only 11 that went. They are all great kids, and they didn't have any discipline problems at all. I was so proud of all the kids.