Problems Of The Elderly In The Society .

Thiruvananthapuram, India
May 26, 2007 11:27am CST
Longevity - it is on the increase everywhere . Care of the elderly - it is becoming significant . The elderly face a lot of physical, emotional and financial problems and also mental trauma .They also feel very much lonely . It is time the young spend enough time for the welfare and caring of the elderly people .
9 responses


• Thiruvananthapuram, India
26 May 07
Very nice of you to think of the elderly with love and compassion . Thanks for the response.


• Thiruvananthapuram, India
26 May 07
Yes ! the elderly are a poor suffering lot. thanks for responding . Wishes ... Sukumar .

• United States
26 May 07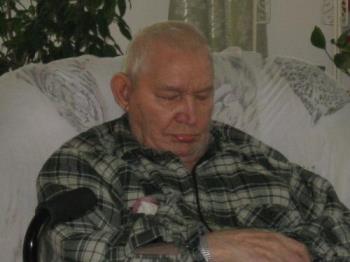 I am 53 years old as of yesterday. I have my father (83) lving with me and I am his caregiver. It's not easy work but it needs to be done as I love this man dearly. There is so much to do that most loved ones would rather put them into a nursing home to ease the stress on themsleves. I will not do this until he becomes bed ridden and needs to be fed. Until then I'll take care of my father for the love he has and the love I show him. Here's dad being lazy as usual. HAPPY POSTINGS FROM GRANDPA BOB!!~

• Thiruvananthapuram, India
26 May 07
It's really great ..your love and affection for your dad .It is further great if you will provide whatever is necessary for his pleasure . All the very best to you and your loving dad .


• Australia
27 May 07
Yes, it is a big issue here in Australia, as the Baby Boomers reach pension stage, & then very elderly. Many want to be in retirement homes, but they are often very expensive. Then som of the elderly need to be in nursing homes, & they can take away your whole pension. Many of the elderly want to stay in their own homes, but need support. So our councils have what is called an "Aged Casre Package". Thgis is where the elderly person receives help showering & dressing, hanging their clohes up, taking them shopping, & doiung some housework & gardening. This enables a number of elderly people to stay in their own home.

• United States
27 May 07
Very true sukumar. I use to work in an elderly care facility, I worked there for five years, and saw many elderly come in that were very neglected at home. The nursing home was always filled with elderly residents as well as all the other nursing homes in the area.

• United States
27 May 07
That is a good point but I really prefer the hope that I shall be healthy enough so I can take care of myself.

• Canada
27 May 07
in our country the pension plan will be empty once the babyboomers retire, there are more babyboomers than young people they say, In Canada

• Ahmedabad, India
26 May 07
Well, the main thing is conceptual change in living and caring! When whole social scinario is changing then all will take advantage of that and go ahead! So people are feeling that lets arrange facility or separate arrangement for elders so that they are comfortable and we are also free to work as we like and live as we wish! I have seen people who have cared and provided exmple of living togethaer and their families are still doing same and they are also going with time but at the same time they consider life and togetherness is the real thing! I think culture as a whole and culture grasped at home has little difference! In so called modern life style the home base of culture is not followed that's why problems are becoming big and big!