Send Text Messages For FREE!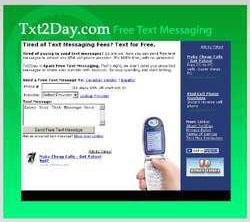 United States
June 1, 2007 4:11am CST
I have a prepaid cell phone so text messages cost me ten cents to send but are free to receive. I started book marking cell phone provider pages so I could text my friends for free from the web pages but I could never remember who had which service. That's when I found Txt2Day. They offer service to most of the major carriers, check the drop down box for the complete list. www.txt2day.com Messages are delivered quickly and I haven't received any spam from using the service. It's also nice if you want to hide your cell number from someone. There is a Canadian version that you can use as well.
7 responses

•
3 Jun 07
Hi ya, thanks for sending us the link, pity it doesn't work in the UK but they may get round to it at some point so i'll keep it on my bookmarks and check it out later in the year!

•
4 Jun 07
Yeah 02 but you can only send 10 a month! There are a few more but they never seem to send properly!

• United States
2 Jun 07
I text message people from my computer as well, as my cell plan doesn't allow me to use text messaging, but I can recieve text messages. I have Nextel/ Sprint. I could get a texting plan, but it would cost me more. I will check this site out.

• United States
2 Jun 07
Hehe I just had to go to the site and check it out. I text message myself. I've added this to my favorites list. Wow the site is so easy to use!

• United States
1 Jun 07
That is so cool! I have already tried it out. I only get 100 text messages with my plan - so at least now I only have to worry about incoming messages. Woohoo!

• Defiance, Ohio
1 Jun 07
This is a great find. Thanks for sharing. I know my husbands cell phone carry charges per text mail. So it was taken off. Where as on my carrier plan it is free. This will come in as a real handy link to share with my friends and family. I have bookmarked the link for later use. Thankyou once again.

• India
1 Jun 07
i use yahoomessenger to send free text messages. its quite fast and absoluely free. then there is globe7 with makes you earn dollars for phone calls and SMSes by watching videos. it's fun. i will going to check txt2day, thanx for sharing.

• Philippines
1 Jun 07
thanks for sharing this information. although i don't send text messages so much. i prefer to push calls. text messaging is so taxing. besides, i only do important messages and calls.