Do you find the SNOOZE ALARM helpful?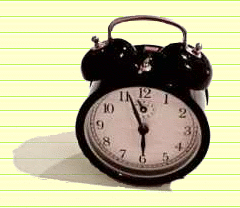 Hong Kong
June 5, 2007 10:55am CST
When your alarm sounds, do you usually set it back to snooze? I usually do. But after getting a few more minutes of sleep, i feel guilty for not waking up on the first ring. lol. Do you think that whoever invented the SNOOZE alarm made our lives better? =D
4 responses

• United States
5 Jun 07
Yes, I think the snooze button is really helpful for me. I am not a morning person, so I am always really out of it when I first wake up. If I turn the alarm off, I often am so drowsy that I end up falling back asleep really quickly, so if I didn't have the snooze too wake me back up again, I'd probably be late for things all the time. lol I have also found that I sometimes reach over and hit the snooze button and don't even realize it because I'm still half asleep, and then I don't actually wake up until the snooze alarm goes off a little while later! It always confuses me cause I always just think that the alarm didn't go off at the right time, but I'm sure it did! Anyway, if it wasn't for the snooze alarm coming back on, I would get myself into quite a bit of trouble. lol

• United States
5 Jun 07
I find that it just keeps you tired all day long, my husband does it all the time. I cannot stand it, because it just doesn't help. Lol, he thinks that every second helps him. I just find it bothersome, and its bad for your health lol. Well, at least its bad for your brain. Its like its on autopilot all day, he he.

• United States
5 Jun 07
I use the snooze alarm way to much. I don't think it made our lives better lol. My poor husband is late for work because I keep hitting snooze and dont realize how many times I've hit it, and by the time I do its time for him to leave for work and he's still in bed lol.

• Philippines
5 Jun 07
yes, i always do that when its ringing, i never wake up immidiately when ring first i will have 3 times snooze before i will awake.its helpful because when you want to sleep for few minutes its ok because it will ring again.