let's sing and have fun!

Philippines
June 11, 2007 4:05am CST
let us have fun singing and and especially for those who could not ,you might find this site very entertaining and useful! if you want to enhance your singing talent or simply to entertain you,visit this squidoo site. it has videoke ,elvis mtv, and other youtube videos for your entertainment! this is the power of music , it is therapeutical , it relieves us of our daily stresses in life.we all need a break from the rat race.go and visit http://www.squidoo.com/musicpower/ if you were not directly directed, kindly type in the squidoo find box "the power of music" by BUZZBOY. don't forget to leave your blurb or comments and the sites ratings. then let's discuss how music enhanced your lives and how it affects you.have a great day!
5 responses

• Philippines
11 Jun 07
Hello tiger. So now I can have my chance to sing beautifully, LOL! I completely agree that music does provide some form of therapy to our senses. I have also wrote down an article about music last month in another site. I always have soft music playing while doing mylotting. Loud music isn't for me. It tend to bombard my senses more and gives me a headache.

• Philippines
11 Jun 07
we all sing beautifully in our own way! if you have visited the site ,kindly tell me if you had fun.thank you.

• Philippines
19 Jun 07
Yes its good to sing when im happy of course, but when sad maybe you can hear some lively songs to cher up and melt that sadness away, singing is fun i like to sing old songs, sentimental or ballad. Let us sing for the joy of the Lord, When you sing in praising God its more powerful than just praying, i also like religious songs.i try to visit that site you mentioned.

• Philippines
19 Jun 07
thanks god spear,glad to hear from you.if you want to look at another site that deals with sadness then visit my friend's site http://www.squidoo.com/ondepresion

•
11 Jun 07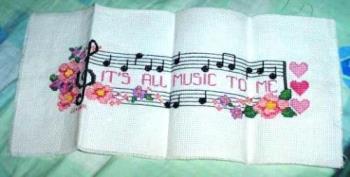 The site you recommended was very cool. I really enjoyed it. Music has been part of my life as early as I can remember. I didn't grow up in an musical family but I came out to be very, very musical. Music has such a great impact on me. When I'm studying I listen to classical music for more concentration. When I'm cleaning the house I listen to upbeat music like the ones for ballroom dancing. It gets me going. Some music make me fall in love with no particular reason. Anyway, I'm planning to sell my Casio keyboard and buy a saxophone instead. Recently, I have developed an interest in wind instruments and I think playing saxophone is cool.

• Philippines
14 Jun 07
great!i hope you do visit the site from time to time. i will be recommending another site on how to play a musical instrument and there will be some books which i will recommend for you guys to learn how to .Have a great day!


• Philippines
11 Jun 07
thanks for visiting.visit it from time to time and i will be adding some songs to sing with,and to dance with.share it with your friends.