A Love Affair To Remember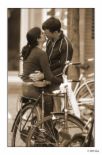 Philippines
July 13, 2007 2:23am CST
I always love this film but I had decided to open up this discussion which has got nothing to do about the film. I just wanna ask, did you have any love affair that you remember in a very special way? Sad to say I do not have any because all were failures (Sobs). I would envy you if you have. So come on, tell me about your Love Affair To Remember.
6 responses

• United States
13 Jul 07
I do, with someone that I hold close to my heart and always will even though we're no longer together and all hope of anything between us again is lost. I will always remember the laughter, the long conversations, the amazing passion, the soft kisses, the sweet whispers and the feeling of butterflies I would get when we spoke. He was a best friend, a lover, a soulmate. We had plans to one day marry, have children with eyes just like his and go live in Switzerland where he'd continue his athletic career. However, sometimes life wins over love and people dift apart and dreams fade because it's easier to give up than it is to follow something through. Whenever it rains I think of him and our last kiss at an airport after a fight, as I left for the final time and the hot tears I cried on the 8 hour flight home and this one lady who sat beside me and told me the story of her husband who had just past away and her. She assured me that love always wins out and that I'd one day be back to that place to stay. That was 2 years ago and I haven't been there since.

• Philippines
30 Jul 07
Very touching. That was indeed a love affair to remember.

• Philippines
13 Jul 07
i dont have a love affair to remember..all are sh1t love affair and i am falling into a bad one again..all are failures, they cheat, they lie..sometimes i just get tired too easy specially when it was all the same thing that was brought up to end up with a fight..

• Philippines
13 Jul 07
Sounds like true love exists only in dreams and fairy tales my friend. Well, I hope not.


• United States
15 Jul 07
Just because a love affair dended up a failure does not mean it should not be remembered. I have had a few boy friends that I loved and they end badly but I still remember fondly. One was my first boyfriend and I see him every once in a while. He works in the same town as I do and we have some of the same friends as I do. He has been married and divorced three times. I have been married once and am still married. That says something about me and my husband. LOL

•
13 Jul 07
LOL.. It was my first love affair that always comes to mind when I am asked this question. I was 12 years old at the time and I fell in love with a girl in my class in school. She was only here in the UK for around 6 months from America where she lived, because her grandmother in Wales had been taken ill. She was to return and I never saw her again.I remember feeling awful for a long time afterwards. But I got over it, as you do. :-)

• India
13 Jul 07
Dear hersmart4ever, I loved my classmate when I was studying in School. Like my so many students loved her. None of them expressed their feeling to her. I could not even express my feeling to her. We are all afraid because in those times, it was a big issue. Even I would have had been thrown out of the school if the matter come out open. She was, actually, belongs to my village. Therefore I had opportunity to talk to her. Others were not had the opportunity even. During my school days, boys generally do not talk to even to class mates due to shyness. My love turned out to be unilateral. It is more than 35 years. I still remember her and am longing to see her.