Anyone heard of a cleaner called MrsCleanPumpItOff??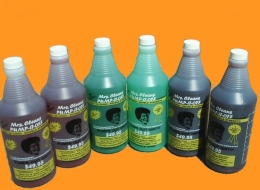 United States
July 14, 2007 10:33am CST
A couple of girls came by my house yesterday selling some cleaner called MrsCleanPumpItOff. I thought, oh no another gimmick! But this stuff seems pretty good. I paid 57.95 including all taxes and fees for a 1 quart bottle. It is a double strength solution, you dilute 1 ounce to 1 quart of water each time you need to use it and she said you could keep adding water to it for awhile before you added more cleanser. It cleans anything and everything safely. It is biodegradeable and safe for the environment. I looked up their website and it is safe for the following: concrete/asphalt, automobiles, auto chrome, cloth/velveteen interior, vinyl leather interior, whitewall tires, carpets, windows, walls, mirrors, glass, pet stains,household pipes, sewer & septic tanks, pools, furniture, exterior, fiberglass, gum, glue, candle wax, jewelry, laundry, linoleum, mildew, screens, brick, formica, ceramics, marble, brass, porcelain, venetian blinds, shingles, siding, stainless steel, and office equipment! There are instructions on their website on how to use it on all of the different surfaces. Just wondering if anyone else has any experience with this stuff! My husband like to killed me for spending the money but it just seemed worth it!!!
No responses