Is Capuccino really half foam?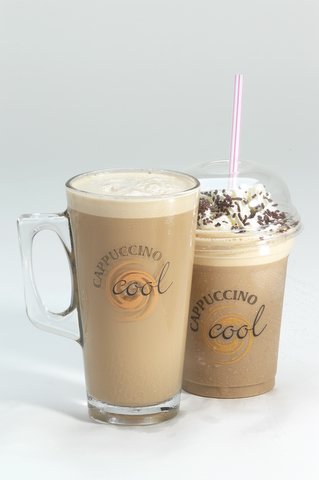 United States
July 16, 2007 6:32pm CST
My co-workers and I went to the nearby starbucks on the way to work. Everyone ordered what they wanted. We all got our things. All of a sudden, Rachel asks me to check her cup. I held her cup which was a large and was like "oh my" what the heck is wrong? I mean, the cup was almost empty. She got a large cup with just a tiny bit of capuccino and the rest of the cup was foam. Upon asking the guy that makes the coffee, he replied to us that capuccino's are 1/2 capuccino and half foam. Is this real? I mean, I been to other similar java places and had capuccino and never have I gotten 1/2 foam. Have you? The following attached photo clearly shows a capuccino with just a bit of foam! Not a 1/2 dosing of wasting FOAM! I mean, am I going crazy here? Or would you panic if you spent nearly 5 bucks and you got a 1/2 a cup of foam? ANSWER PLEASE!
3 responses

• United States
16 Jul 07
Starbucks is entirely over rated. I've never had a cappuccino that was half foam. That guy either needs retrained or starbucks in general needs to learn about coffee. I don't like starbucks, I think I've had coffee from there once. It's too expensive, and their "grande" is like one of my coffee cups at home. She should have demanded another cappuccino or her money back.

• United States
16 Jul 07
Crazy huh. Yes, upon looking at the inside of that capuccino, both of us asked the guy together. We were like shocked. Me being a coffee drinker, have never seen anything like it. I got to admit, I love the seasonal coffee's from starbucks, but the prices do suck. And about that guy, I haven't seen him again. lol.

• United States
17 Jul 07
Hahaha Yes i actually did say ummm i dont want this coffee. And if it was gonna be all like that, why would you let me order a large and put it in a tall cup. Did he think i wasnt gonna notice? Next time i will say venti cappachino hold the foam! I bet they get that!

• United States
17 Jul 07
Haha I know we are still traumatized by that day. I'm afraid to ever ask for a cappucino. What if I forget the hold the foam part. Or can I have more capuccino and less foam? Or foam on the side please. lol.

• Malaysia
18 Jul 07
I miss Starbucks!I don't believe that guy.Cappucino is NOT half foam!Never!I'd certainly PANICKED if I got a half cup of foam!

• United States
18 Jul 07
hA hA now you know how my friend felt lol. she was absolutely confused too!!!

• United States
18 Jul 07
I'm telling you, we shoul've done a protest fest. lol. Insane, but you know what, he was a bit of a dumb dumb, he was like hesitent on replacing her cap.

• United States
17 Jul 07
I love starbucks but its a starsmuck of a place sometimes. I can never really deciede on what to get. But i will always ask to hold the foam. But i did make foamies in there. I guess i was the joke of the day with that venti cappachino. Haaa and to boot he tried to say you cant have all that coffee. Like is it against the law. If i become addicted he would just shut me off! How rude.

• United States
17 Jul 07
Exactly, it's non of his business if you want a venti capuccino all without the foam! I mean how dare he dictate how much java you should intake. HAha, too funny and also agravating. Next time I go and decide on a capuccino, I'll have to remind myself to show my ID. Like listen dude, I'm old enough to decide if I want a VENTI EXPRESSO. lol